Is he a true blue hero or an Aussie bogan?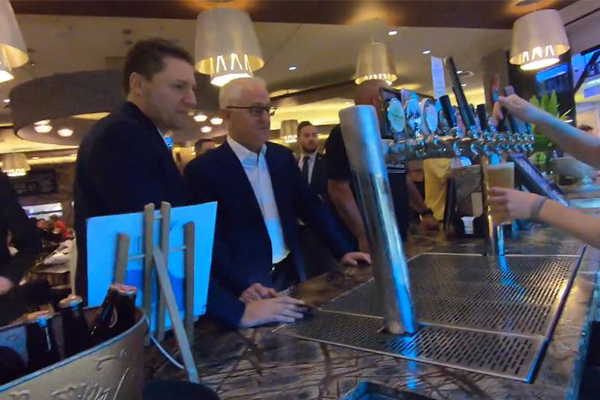 The Brisbane pub-goer who flipped the Prime Minister the bird has told his version of events.
26-year-old Nick Gordon was at the bar ready to order his next beer last Thursday, when he claims Malcolm Turnbull pushed in.
A very upset Nick, says he was kicked out of the pub and fined $756 for flipping the Prime Minister the bird.
He's told Chris Smith, "I just told him to pretty much F off, and go back to Parliament and sip on his cup of tea".
The PM's office has now contacted The Chris Smith Show, categorically refuting Mr Gordon's version of events.
Staffers also confirmed Nick Gordon was asked to leave the premises by Federal Police because he was drunk and that the fine resulted from an altercation outside the venue.
The PM's office says Mr Gordon's claims are "borderline defamatory" and have now released video evidence to prove their side of the story.
See the footage
Plenty of listeners threw their support behind the Brisbane landscaper, with Scott from the Gold Coast even offering to pay Nick's fine for him.
"Nick is a bloody legend. It's bad etiquette to push in."
Click PLAY to hear the full interview with Nick Gordon
Twitter – I found the bloke who got fined $250 for telling the PM to piss off. Sending him $250 worth of beer. Pitch in $5 and buy him a beer. WHERE ARE THE FREE SPEECh WARRIORS ON THIS? https://t.co/mQKLzAh6xQ

— Sam Dastyari (@samdastyari) May 20, 2018