What Neil Breen did as the Governor's 19-gun salute rang across city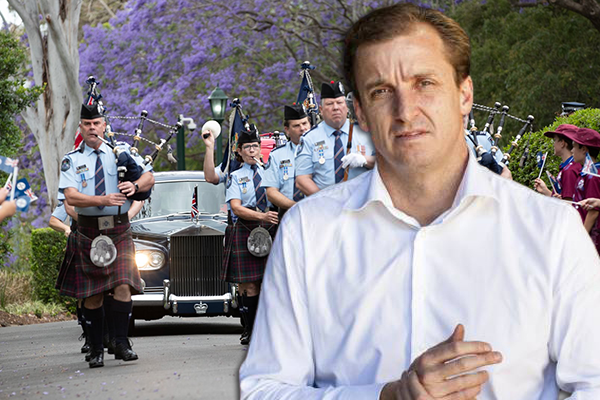 Queensland's former Chief Health Officer Jeannette Young was officially sworn in as our 27th Governor yesterday.
Following the ceremony, a fanfare was played from the balcony of Parliament House and the sound of the Vice Regal Salute of 19 guns echoed across the city.
While Dr Young was praised for leading the state's COVID-19 health response, Neil Breen says it was at the cost of things not said yesterday.
A 19-gun salute to mark the swearing in of Her Excellency Dr Jeannette Young PSM as the new Governor of Queensland. @QldGovernor pic.twitter.com/vjISeCI17Y

— Annastacia Palaszczuk (@AnnastaciaMP) November 1, 2021
"I heard the 19-gun salute, I knew there'd be a garden party, Rolls-Royces, [an] exclusive invite list," Neil Breen said.
As the gunfire rang out, Neil Breen called the owner of the Murwillumbah Showgrounds in NSW, where a tent city of stranded Queenslanders still sits.
"She said there were 10 or 11 groups still there, still those ladies sleeping in the back of their cars."
They're among an estimated 9000 people stranded at NSW's northern border, unable to return home.
"It is not good enough and it is unacceptable for there to be garden parties and celebrations about extraordinary achievements.
"How can we sit here and be happy that we've left vulnerable women sleeping in cars in a showgrounds in Murwillumbah?
"We should be ashamed of ourselves."
Press PLAY below to hear Neil Breen's comments in full 
Image: Governor of Queensland / Twitter