Lockyer Valley cops the brunt of severe weather as heavy deluge continues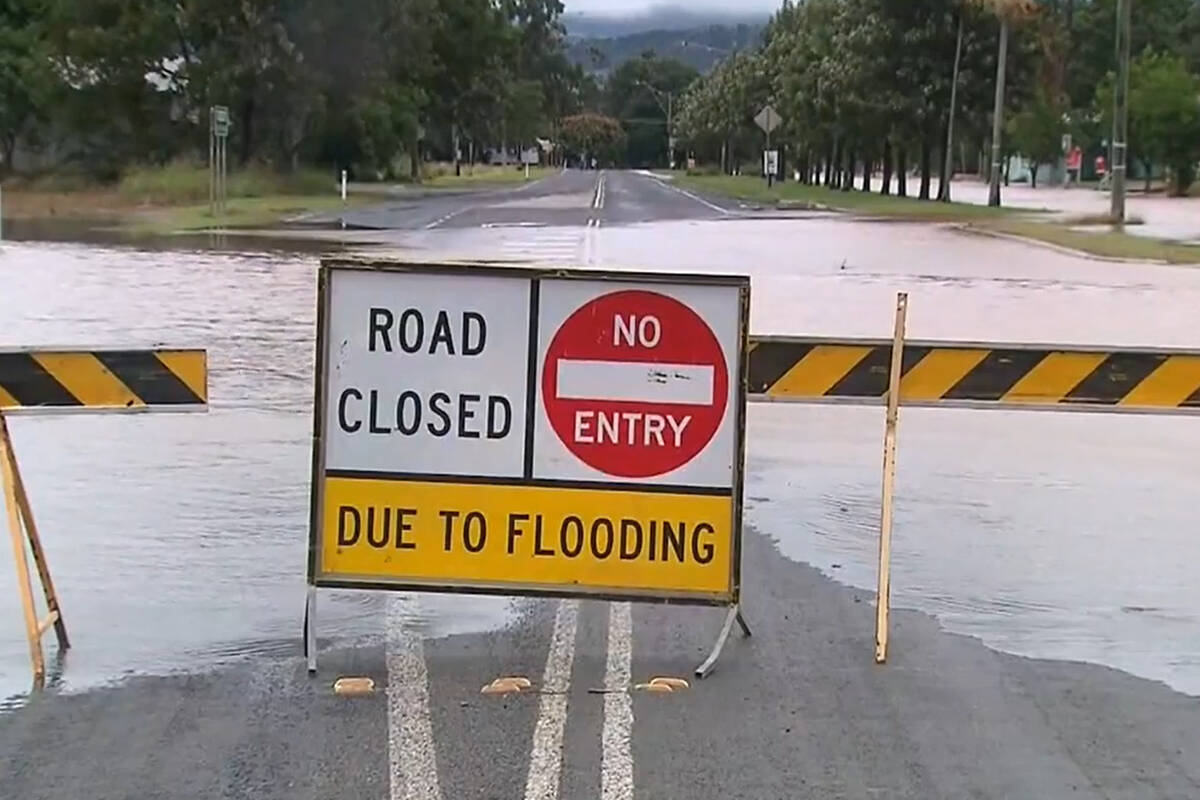 There is a huge clean-up to come in the Lockyer Valley in the coming days, after the region copped the worst of the heavy deluge.
Local mayor Tanya Milligan described it as a "horrendous and bumpy day" but she says the latest weather update was more optimistic, with the most recent forecast predicting 50mm of rain to come.
Although she said there is a big clean-up ahead."
There were six swift water rescues, four of them from flood waters, two for medical assistance.
There are 135 roads closed or flooded.
There were predictions around 260 homes would be impacted.
"The next few days will really be the tell tale of that, we still have people that haven't been back home, even myself, I haven't been back home to my place," she told Scott Emerson this afternoon.
She says there will be a lot of "pain, clean-up and a lot of emotional anguish" in the coming months as the community rebuilds, again.
Press PLAY below to hear her wrap-up the latest from the severe weather event
EARLIER
A flooding emergency is unfolding in the south-east as creeks and rivers respond rapidly to torrential rain.
A severe weather system battering Queensland has cut roads across the south and forced numerous schools to close.
Authorities were most concerned about Laidley, situated in the Lockyer Valley, where homes and businesses have already been inundated.
Premier Annastacia Palaszczuk has spoken to the press this morning, urging residents to keep aware of warnings.
The Laidley Creek has broken its banks and residents have been told to move to higher ground.
The flood siren has been set off in Grantham and police have been doorknocking as a precaution.
Several other emergency alerts are in place this afternoon, including in Stanthorpe, Warwick and parts of Toowoomba.
Meanwhile, the Brisbane River is not expected to rise above minor flood levels, meaning surrounding suburbs should get by unscathed.
Nine News reporter Reece D'Alessandro told Sofie Formica there's a "dreadful, dreadful sense of déjà vu" in Oxley.
"All those businesses along Blunder Road, including P&G Mechanical, where we were this morning, they're preparing for the worst again.
"They've got a museum of floodwaters, if you can put it that way.
"There's marks up the side of their workshop: 2011, 1974 and of course, February 2022 and now the water's lapping at the back of their shops again."
Press PLAY below to hear the latest on the situation in Brisbane
Nine News reporter Annie Pullar told Sofie Formica most residents were prepared for the conditions.
Press PLAY below to hear Annie Pullar's full report
Nine News reporter Shannon Marshall-McCormack told Sofie Formica Gympie has largely avoided flooding as the heavy rain holds off.
"For the locals here, they are still on edge though," he said. "Just three months ago, they saw the worst flood in more than 120 years.
"The height went up to more than 22 metres, so I guess that gives you a sense that it's more than half what it was last time."
Press PLAY below to hear Shannon Marshall-McCormack's full report 
The flood siren was set off in Grantham to warn residents in low-lying areas to get to higher ground.
The region copped 170 millimetres of rain in the past 24 hours as a result of a severe weather system that's continuing to saturate the Queensland's south-east.
Lockyer Valley Mayor Tanya Milligan told Neil Breen around 260 properties in the region are expected to take on floodwaters.
Press PLAY below to hear the Mayor detail the situation in Grantham 
Several other emergency alerts have been issued overnight, including for the Scenic Rim.
Numerous flood warnings are also current, along with a severe weather warning for heavy rain for the southeast coast.
Today reporter Jess Millward told Neil Breen police door-knocked in Laidley, advising residents to evacuate.
She said the Bremer River has well and truly broken its banks at west-Ipswich.
"It was nudging up close to 15 metres on the flood marker," she said.
"The Bremer River is now expected to get into major flood levels by this afternoon so roads are going to be cut right across Ipswich."
Press PLAY below to hear Jess Millward's full report 
Nine News reporter Reece D'Alessandro told Neil Breen Oxley roads are being cut off.
"Overnight, mate, the water has crept up under the cover of darkness," he said.
"The water has crept up via Oxley Creek."
Press PLAY below to hear Reece D'Alessandro's full report 
Nine News reporter Annie Pullar has been on the roads around Laidley, where emergency evacuations are underway.
She told Neil Breen most roads out of the area have been cut off.
"You can't get anywhere," she said. "We hit a roadblock at the Cunningham Highway, about an hour out from Killarney.
"It looks like a swimming pool."
Press PLAY below to hear Annie Pullar's full report
Emergency crews have been busy responding to calls for help overnight.
QFES and SES Director Glenn Alderton told Neil Breen a number of swift water rescues have been completed.
"We've had about 120ish calls from the public for assistance," he said. "Unfortunately, we've also had the Fire and Rescue crews do seven swift water rescues as well.
"Most of those would relate to inundated cars."
Press PLAY below to hear the full interview 
Listener Scott snapped this picture of foam coming in from the beach at Alexandra Headland.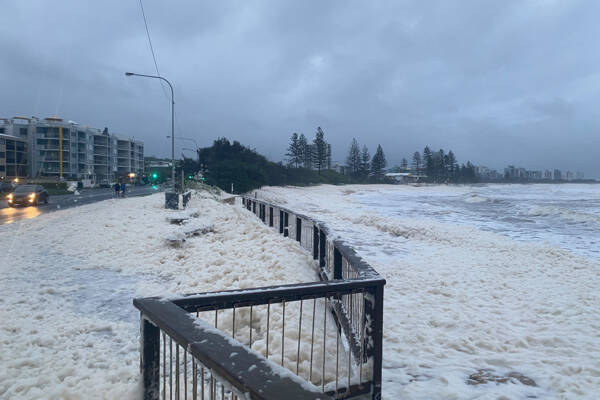 Images: Nine News, supplied