Sea Eagles coach apologises for Pride jersey 'mistake'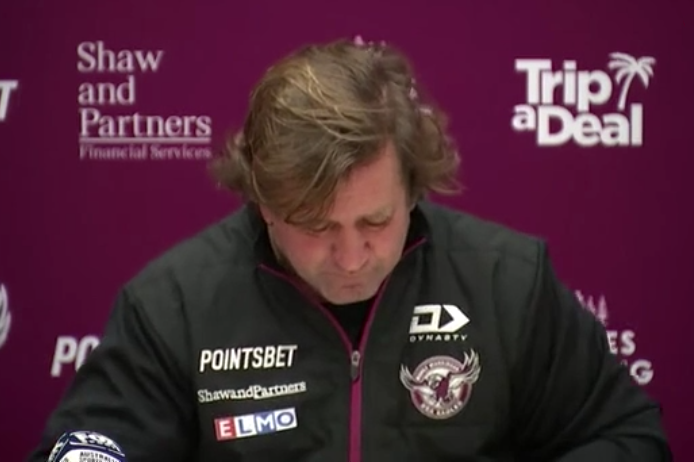 The Sea Eagles will conduct an internal review into the ill-fated decision to launch a 'pride' jersey without consulting the playing group.
With their NRL finals hopes on the line, seven players have pulled out of Thursday's crucial clash with the Roosters because they object to wearing the rainbow jersey.
Coach Des Hasler says the club made a bad call.
View this post on Instagram
Nine News sport reporter Danny Weidler told Sofie Formica objecting players will not take the field in this week's round as the club pushes on with the jerseys.
He said had the club decided to make the Pride jersey non-compulsory, it risked sending a bad look to supporters.
"My immediate reaction is you'd half the team representing a jersey and half the team wearing a different jersey," he said.
"What does that represent? Does that represent protest? Can that then be received as these players protesting what's been put out there?"
Press PLAY below to hear the latest 
EARLIER 
Manly is facing a selection headache as a group of players boycott this week's crucial NRL game, refusing to wear a pride jersey.
It's understood six players have withdrawn from Thursday's match against the Sydney Roosters, citing religious and cultural reasons.
Manly officials were locked in emergency talks on Monday night with seven players before a number began to reconsider their position.
"What we think about the beliefs is one thing here but we do have to respect, I think, the player's beliefs," Peter Psaltis told Laurel, Gary & Mark.
"It is a highly sensitive issue and it's something that I don't think we fully understand in Pasifika culture, just the reaction that would happen … should they wear that jersey.
"It doesn't go by what we're saying, by our beliefs here, and I'm not necessarily saying I agree with what is happening here, so please don't go and shoot the messenger.
"[But] I don't know whether we fully understand it."
Press PLAY below to hear more 
Ray Hadley told Laurel Gary & Mark the NRL will be "damned if they do and damned if they don't" in their reaction to the issue.
"I don't have a problem with the players' stand, to tell you the truth," Ray said. "And that's not because I don't support the gay and lesbian community, it's about their rights and privileges.
"It's not without precedence – a number of years ago, a player from eastern suburbs didn't want to wear a jumper with a betting company on the front."
But Ray suggested allowing the players to take the field without Pride colours, the LGBTQIA+ will claim the NRL is "not supportive".
"This is a rule being enacted by the NRL to support the gay and lesbian movement, and I applaud that, but if a player doesn't want to wear a jumper because it's got a gay pride colour on it, that's a matter for the player and the club.
"It's a most unsatisfactory set of circumstances but at the end of the day, I defend the players' rights to, on cultural and religious grounds, not wear the jumper."
Press PLAY below to hear Ray Hadley weigh in
Image: 9News Sydney