Residents urged to flee as bushfire threatens Sunshine Coast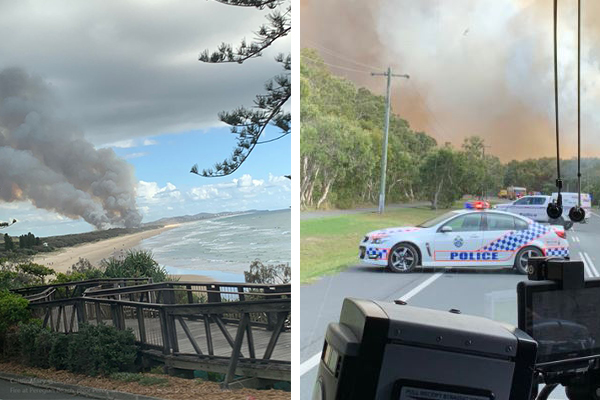 Images: Caitlin Neate
Residents of a beachside town on the Sunshine Coast are being urged to evacuate their homes as a fast-moving bushfire threatens the community.
Just weeks after the last fire in the region, an emergency situation has been declared at Peregian Beach as fire races through bushland near the town.
The blaze has been upgraded to Watch and Act alert level and an evacuation centre has been set up at Noosaville Sports Oval.
#BREAKING: Fire crews are battling a bushfire at Peregian Beach. It's burning near Emu Mountain Road and David Low Way. @9NewsSunCoast pic.twitter.com/cdr64bDmal

— Alexandra Cullen (@AllyCullen_9) October 22, 2019
Chief Superintendent Michelle Young tells Ray Hadley the fire is contained to a small area of bushland at the moment but conditions could change rapidly.
"The wind is blowing in the direction of the Peregian Beach Housing Estate. So we're telling those people… pack up all the important stuff and get out."
Click PLAY below to hear the full interview
Nine News Reporter Alexander Heinke tells Steve Price authorities haven't confirmed how the fire started.
"They did say how strange it was that in these conditions, not too windy, the soil is rather damp from recent rain… that how in these conditions a fire has erupted essentially out of the blue.
"Firefighters at the moment are sort of dumbstruck, they can't believe that this fire has erupted out of essentially nothing."
Click PLAY below to hear the full interview