GOMA responds to controversial piece of art after police union demands apology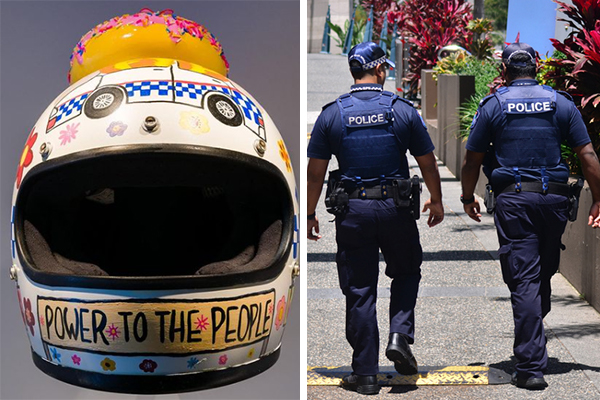 The director of the Gallery of Modern Art has responded to the controversy surrounding a piece of art which was raised the ire of the police union and Police Minister Mark Ryan. 
Neil Breen heard from a listener yesterday telling him of the piece, a motorcycle helmet picturing a burning police car with 'FTP' emblazoned in the flames.
Chris Saines told Scott Emerson it won't be taken down, but admitted it was a "complicated piece" to deal with.
The Minister said it was "anti-police" while the union is asking for an apology.
"I am listening to and very respectful of those concerns," Mr Saines said.
"But by the same token I also need to say that this is a work of art, and many of the works of art we show in the gallery really year in year out, and not least in out most successful and popular exhibition the APT, often take very political, polemical positions that art is not always easy to do with."
He agreed he may get a call from the Premier or the government.
"I may well do. It is very likely I will.
"But I am just putting to you of the position the gallery has taken with regard to this work, we do defend the right of artists to make sometimes very challenging and diff statements about their view of the world.
"I have not received that call until I received that call I wouldn't in a position to tell you what my response would be."
Click PLAY below to hear the full exchange
Queensland Police Union President Ian Leavers told Neil Breen he has approached a number of ministers seeking an apology for the art piece.
Mr Leavers said the art piece has upset police officers across the state.
"I've actually spoken to the Premier yesterday, the Police Minister and Leeanne Enoch," he said.
"I want an apology.
"It's an absolute disgrace and it's outrageous."
Mr Leavers also revealed the artist, TextaQueen, has run programs with young people, which have encouraged a hatred of police.
"It's no wonder we have all this antisocial behaviour."
Press PLAY below to hear more
Image: Getty, QAG & GOMA / Instagram