Is there a sinister reason behind the NRL's best referee being dumped from Origin?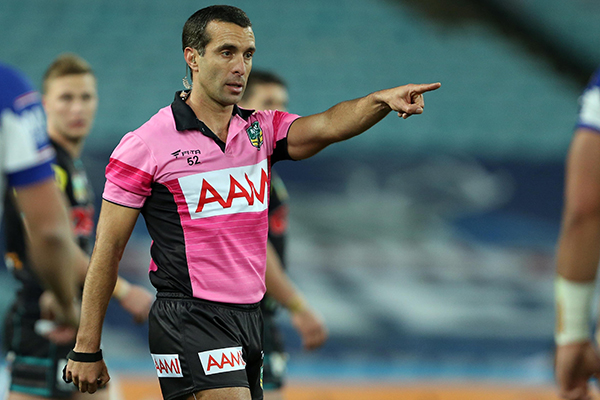 Ray Hadley has questioned if there's more at play following the dumping of the NRL's top referee from State of Origin.
Matt Cecchin is widely regarded as the game's number one whistleblower alongside Grant Atkins, but neither will line up at the MCG next Wednesday.
Instead, referees boss Bernard Sutton has appointed his brother Gerard to control State of Origin I with Ashley Klein, who was demoted earlier this season for poor performance.
As a further kick in the guts, Sutton selected his other brother Chris as the senior referee for the Parramatta-Newcastle game this weekend, relegating Cecchin to be an assistant.
The move has been slammed by the game's leading voices, but has Ray Hadley questioning if there's more to it.
"Back in 2012, Matt was brave enough to declare he was openly gay. His career prospered and he was judged on his performance and not his sexuality, and that's the way it should be.
"This year the refs are controlled by one of three Sutton brothers, Bernard Sutton.
"In the 32 years I've been broadcasting football, it is a past time of fans to find fault with the referees, but I've never seen such complaints this year.
"The only two reasons Matt Cecchin is off this year… either Bernard Sutton doesn't like him, or he doesn't like who he is. And you can take that any way you like.
"Matt Cecchin doesn't deserve this treatment. It's time that Todd Greenberg intervened. Call them to a meeting to find out why Cecchin is being targeted by the refs boss."
Click PLAY below to hear Ray's thoughts
Rugby League's leading voices have slammed the decision as disgraceful…
Matt Cecchin and Grant Atkins should be appointed Origin referees and if they aren't, the position of the referees bosses is untenable. They are the best in the game by a country mile!!! Just my opinion.

— Mark Levy (@marklevy2gb) May 28, 2018
NOW | Bill Harrigan "They've definitely got it wrong. If Cecchin's not better than the two they've chosen then I don't know the game and I will WALK to Goulburn!" #stateoforigin

— John and Beau (@johnandbeau) May 29, 2018
Big story @telegraph_sport tomorrow re the sacking of 2017 Origin and GF refereee Matt Cecchin. Boss Bernard Sutton has appointed No1 brother Gerard to Origin and No2 brother Chris to head referee this weekend while Cecchin is demoted to Henry Peranara's assistant

— BUZZ ROTHFIELD (@BuzzRothfield) May 29, 2018
Matt Cecchin is the DCE of referees. How can he not get an Origin gig? #nrl #origin

— Travis Meyn (@travismeyn) May 29, 2018
Are you joking Bernard Sutton?!? Your brother Gerard is certainly one of the top 3 refs. But the other two are – quite clearly – Matt Cecchin and Grant Atkins. Ash Klein is the bloke YOU dropped in RD3. C'mon @Todd_Greenberg sort this mess out. Our refs deserve good leadership.

— Tim Gore (@GorskiOPork) May 29, 2018