Grocery giants have made 'step in the right direction' with drought levy, dairy industry group says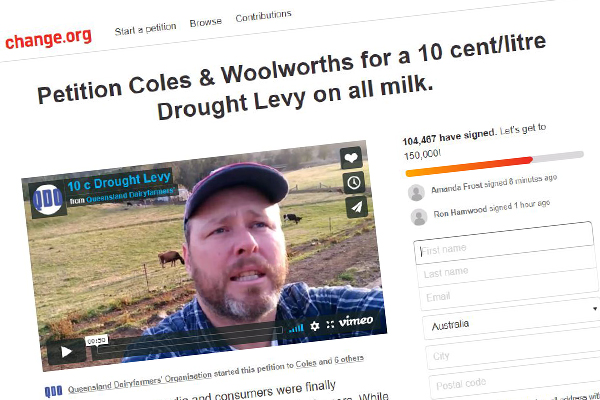 A dairy industry group has described drought relief milk packages from the two major supermarkets as a step in the right direction.
Coles and Woolworths have listened to public pressure and increased the price of milk to help struggling dairy farmers.
Woolworths were the first to make the move. They will add a 10 cent levy to their supermarket-brand three-litre milk.
Next month, they'll also release a Drought Relief Milk where 10 cents per litre will go towards drought-impacted farmers on one, two and three-litre varieties.
Coles has only committed to upping the price of their three-lire milk by 30 cents.
President of the Queensland Dairyfarmers' Organisation, Brian Tessman, tells John Stanley what we've seen today is a good start.
"We certainly think we need to have it (drought levy) on all white milk but it was a step in the right direction," he says.
Coles will allocate the extra money raised from a levy to the National Farmers Federation's drought relief fund, a move Mr Tessman isn't welcoming.
"(It) clearly will not give the return to dairy farmers in any remote way. It certainly will not do the job that we wanted for Australia's dairy farmers," he says.
Mr Tessman says he hopes the levy won't end when the drought breaks because farmers will need extra support for some time to get back on their feet.
"You need at least a full season for the farmers to grow fooder and get some grain grown and hay made."
Click PLAY below for a step in the right direction