Moree to be removed from QLD border bubble as COVID cluster grows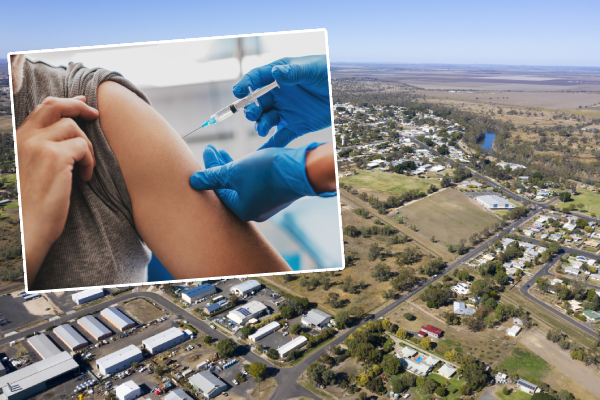 The NSW town of Moree will be taken out of the Queensland border bubble as NSW and Queensland authorities battle to control a worrying COVID-19 outbreak on the border.
Nine News reporter Peter Fegan revealed the news on 4BC Drive.
"I can now confirm, the town of Moree from midnight tonight, is officially out  of the border bubble."
In a statement, Premier Annastacia Palaszczuk said Moree will be declared a restricted border zone area.
"It means residents of Moree will no longer have access across the Queensland border as part of the border bubble, except in exceptional circumstances: including for the likes of essential healthcare," she said.
"It follows an outbreak that has so far spread to 33 cases in NSW. This is in addition to three cases that were reported in Queensland today.
"There will also be a change to border directions, so that unvaccinated people in the NSW border zone, won't be able to come to Queensland to places and services that are available only to vaccinated people in NSW."
Press PLAY below to hear more
Earlier in the show, it was also revealed the local Goondiwindi mayor raised concerns with authorities about a possible outbreak despite high vaccination rates in the region and across the border in Moree.
There were three new cases recorded today, linked to a known cluster in Moree, which has now been listed by NSW Health as an official virus outbreak zone.
Goondiwindi is one of the most vaccinated places in Queensland, with a first dose rate of 93.1 per cent and 83.5 per cent for double jabs.
Mayor Lawrence Springborg said the funeral in Moree, which he believed has become a "super-spreader event" was attended by hundreds of people, many who he believed were unvaccinated against COVID-19.
"We have been doing everything we can to protect us along the way," he said.
"But I would have thought something should have been learnt about what has happened in western NSW, this is going back some months ago, where we had an event like this, where a significant number of vulnerable, unvaccinated attend people attend large gatherings attend which lead to outbreaks, that's what we see here in Moree."
He said the Moree Plains LGA had a high level of vaccination in the community, but he said there's a number of vulnerable communities with very low levels of vaccination.
"This has been my concern that I have raised with authorities for months now, we have planning for just this scenario, you can read it like a book.
"It was always going to happen, and there are some anomalies that should have been addressed that may have assisted us along the way."
He said there were "rivers of vaccines" available through Queensland Health.
Press PLAY below to hear more of how the town is reacting to the outbreak
RELATED