Don't be fooled: Another dodgy company is scamming customers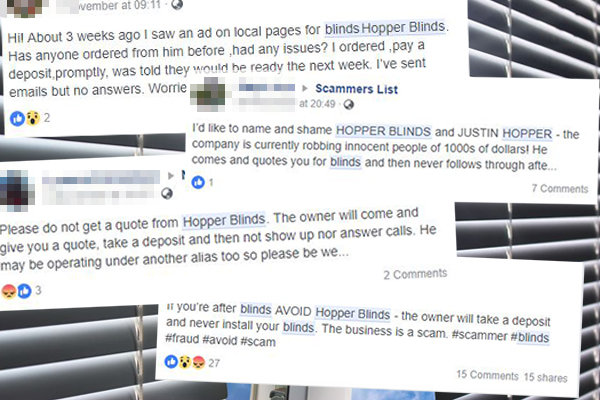 The Ray Hadley Morning Show has been alerted to a yet another dodgy company, after a listener emailed the program to report a scam.
According to the listener, Hopper Blinds – which deals with the installation of blinds, shutters and screen doors – came to his home for a quote.
But after handing over a $250 deposit, the operator disappeared.
"No more emails, phones or texts. He seems very legitimate he brings you samples to look at and seems to know the products."
What's worse is that the listener isn't the only victim, multiple other people have reported the same problems.
The dodgy operation is run by Justin Hopper, whose company was previously called Ciani Southern Sydney before a name change last year.
When The Ray Hadley Morning Show called the landline listed by Google and asked if it was Ciani blinds, the man on the other end hung up on them.
Next, they tried the number on the Ciani website and were told Mr Hopper didn't work there.
"He's fake. Not working for us," the show was told.
They've also tried to contract Mr Hopper directly on his mobile but to no avail.
When they emailed him, he responded on Wednesday morning saying he'd provide a response to the allegations by the afternoon, but the show is yet to receive anything.
Click PLAY below to hear the full story
If you see ads for Hopper Blinds, which are scattered all over Facebook, John Stanely is urging listeners to NOT respond.
"Do not engage the services of Justin Hopper or Hopper Blinds.
"If you've been dudded by Justin Hopper or Hopper Blinds, we want to hear from you."
John's also encouraging listeners to lodge a written complaint with Fair Trading if they've been unable to settle the matter.