Cop's sheep selfie goes viral: 'She was a bit sheepish at first'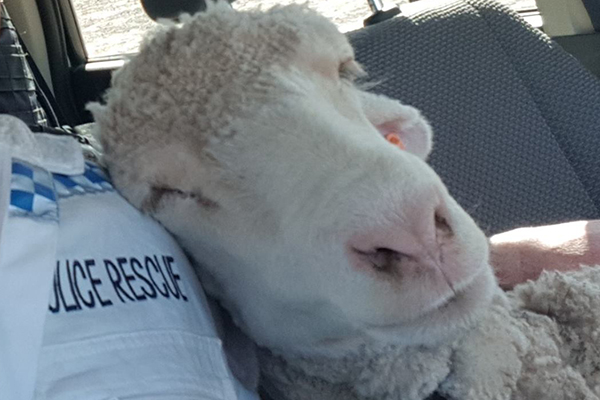 A NSW Police officer has become an overnight social media star after his selfie with a sheep went viral.
Leading Senior Constable Travis Pocock was conducting a search warrant near Bourke, in the state's far north-west, when he noticed a sheep had fallen been the rest of the flock.
It was limping and struggling to keep up in the extreme heat.
Senior Constable Pocock jumped into action, scooping up the sheep and putting her in the front seat of his car.
After fastening her seatbelt, he couldn't resist getting a snap with the remarkably relaxed sheep.
Senior Constable Pocock tells Afternoons the sheep had obviously been in close contact with humans before.
"She was quite relaxed and she ended up putting her head on my lap and fell asleep while we mustered for the next 45 minutes.
"She was a bit sheepish at first [pun very much intended], but she came around."
Erin Molan asked if the officer planned to stay in touch with his co-star and got a typical bushie response.
"There's one of many of them, I think I'll be alright.
"I might come across her on a dinner plate one day."
Click PLAY below for the full interview