Coach bus ignores road signs, smashes three windows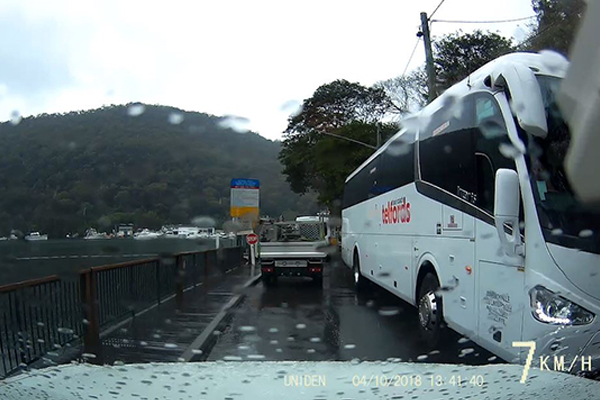 Listener Anthony from Arcadia sent Ray Hadley this dashcam footage taken Thursday afternoon while he was queuing to catch the Berowra Ferry.
To his surprise, he saw a coach (see footage below) unloading off the ferry.
Anthony tells Ray the ferry master confirmed the coach had made it down the narrow road from Berrowa, including a hairpin bend which caused the coach to smash two passenger windows and damage the side of the bus.
See the vision below
He says the damaged was suggested to cost $10,000.
The coach was picking up passengers that were having lunch at the restaurant on the Arcadia side.
Anthony tells Ray it's a mystery why the driver ignored the illuminated signs stating a 3-ton load limit and why the driver didn't approach the restaurant from Old Northern Road.
He says the ferry master told him it was the third coach this week that did the same trip.
Click PLAY below to hear Ray's comments in full