Brisbane residents yet to see the end of heavy rainfall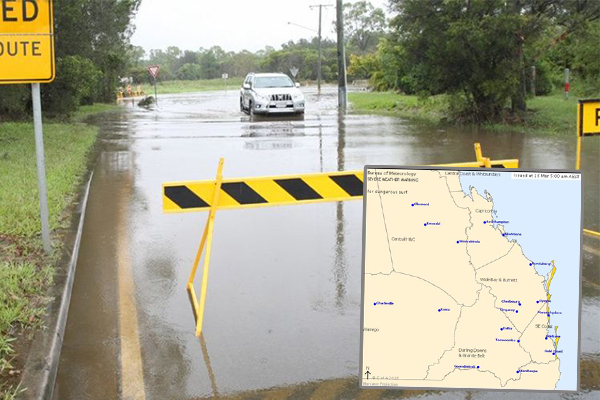 Image: Twitter
Queensland has been hit with massive rainfall this month.
And it's far from over, with south-east Brisbane residents being urged today to prepare for a possible cyclone.
Severe weather warning for dangerous surf for coastal areas of #SEQld, beginning Wednesday morning. A tropical low moving southwest in the #CoralSea is driving these conditions, however the low is expected to stay offshore. Keep up to date with warnings: https://t.co/IoizTBSPAz pic.twitter.com/laXxXOz3Zo

— Bureau of Meteorology, Queensland (@BOM_Qld) March 12, 2018
Ingham in particular has been affected, with hundreds of homes being inundated with flood waters as the area reaches its flood peak.
Chris Smith speaks with Phil Faint, Acting Superintendent for Queensland Fire and Emergency Services.
"At the moment we've obviously got a huge relaxation in the rainfall, so that's allowed the floods to start disappearing.
"What we currently have, some areas still in and around Ingham, there are houses still inundated, but the majority of the flood waters have receded."
He also stresses the importance of listening to evacuation warnings.
"If any evacuation advice come through, warnings from police or emergency services…  those messages are not issued lightly."
Listen to the full interview below