'My name is Cleo': Missing child found 'alive and well' by WA police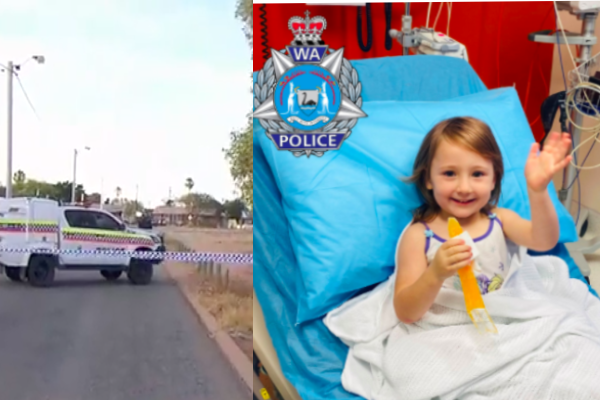 Cleo Smith has been found after she went missing from a WA campsite about two weeks ago.
In the early hours of this morning, a police team broke their way into a locked house in Carnarvon.
Western Australia Police Force Deputy Commissioner Col Blanch released a statement.
"One of the officers picked her up into his arms and asked her 'What is your name?'
"She said – 'My name is Cleo'."
The moment Cleo was rescued 👏 pic.twitter.com/arusYi9kCa

— WA Police Force (@WA_Police) November 3, 2021

Press PLAY below to hear the moment Neil Breen broke the incredible news 
The miracle we all hoped for. ❤️ pic.twitter.com/zOd5WDTA1A

— WA Police Force (@WA_Police) November 3, 2021
Police have said this afternoon the man is believed to have been acting alone, and it was an "opportunistic".
Superintendent Rod Wilde said the man became a suspect "only yesterday".
The young girl is also out of hospital.
It was revealed this afternoon there were  over 1000 calls from the community after her disappearance.
Nine News Perth reporter Lucy McLeod said she shed tears as she re-capped the 18-day ordeal.
"Huge resources went into this, huge police effort."
Press PLAY below to hear the latest as the investigation continues
Cleo vanished from her family's tent at the Blowholes campsite, around 80 kilometres north of Carnarvon, in the early hours of October 16.
She's since been reunited with her parents.
"This is the outcome we all hoped and prayed for," Deputy Commissioner Blanch said.
"It's the outcome we've achieved because of some incredible police work."
A Carnarvon man is being questioned by detectives in police custody.
Press PLAY below to hear WA Police break the news 
Listeners are telling us about the moment they heard the unbelievable news.
"I was at a set of traffic lights, I just happened to turn the radio on and I heard that story," listener Greg said.
"Mate, I had tears streaming down my cheeks."
Press PLAY below to hear the calls
Image: Western Australia Police/Nine News