Young mum's heroic act to save baby from hail storm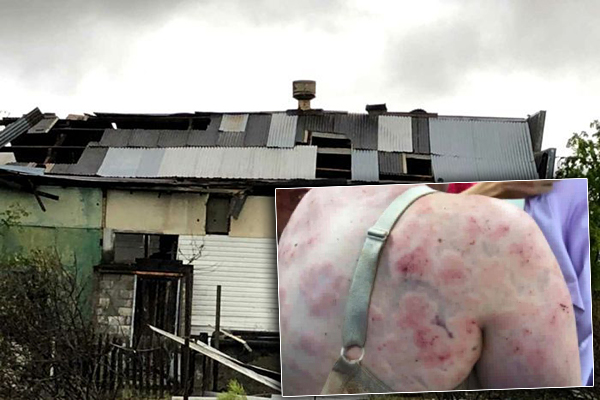 Image: Sandra Jaschke
South East Queensland is cleaning up after wild weather delivered strong winds, large hail and a tornado.
Two women and a baby girl were injured when their car was hit with hail at Kingaroy.
Young mum, Fiona Simpson, suffered horrific bruising as she tried to protect her baby from pelting hailstones.
The tornado significant damage in the town of Tansey, west of Gympie.
Local farmer Alex tells Alan Jones his home managed to survive, but others weren't so lucky.
"We actually had to hold the front door of our house shut because it was going to blow in.
"And then we heard stuff hitting our house and it was from our neighbour's house next door that got blown to pieces."
Alex tells Alan businesses in town have been flattened as well.
"One on the corner, the old butcher shop's been destroyed.
"And then the garage up the road, that was the local garage for all us farmers, it's been wrecked as well."
Click PLAY below to hear Alex's call
Millions of dollars worth of crops have been destroyed by the storm, with tennis-ball-sized hailstones destroying fruit farms in South Burnett.
Channel 9 reporter Darren Curtis updates Ray Hadley on the aftermath of the storm.
Farmers have told him they had no idea it was going to be so bad.
"They got off the tractor cause they could see this storm front coming towards them. Some of them were even taking video.
"They said this mist sort of hit them. What they couldn't see in the mist was the hail coming towards them.
"Next minute their paddocks were being sliced open by all of that ice hitting, their homes were being torn apart."
Click PLAY below for the full update