'You could cause a serious accident': Disgraced trucking company in strife again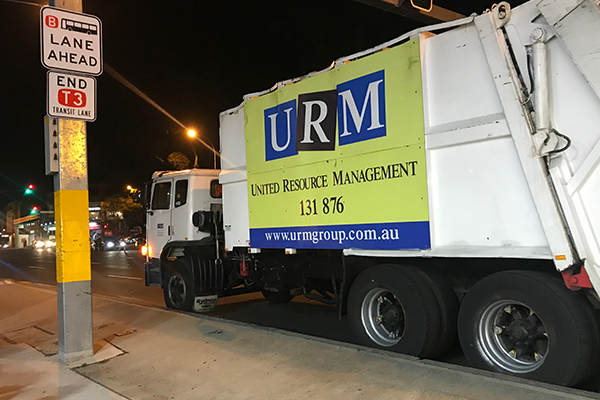 Ray Hadley has been sent photos of a United Resource Management truck parked dangerously in a busy citybound lane.
A Sydney listener has sent in images of a URM vehicle pulled up at a no-stopping zone outside a 7-Eleven service station at Mosman.
The listener says the driver put their hazard lights on and casually strolled into the petrol station to make themselves a coffee, all the while blocking an entire citybound lane.
The lane the vehicle was blocking is one used by the double-decker B-Line buses, among other services.
What's worse is the truck was parked between the entry and the exit of the service station, so other motorists pulling out of the servo onto the main road couldn't see oncoming traffic.
The driver of the vehicle has phoned in to the Ray Hadley Morning program, apologising but claiming he had nowhere else to park.
But Ray says that's no excuse for parking illegally and putting others at risk.
"Well, old mate, there's a big sign beside your truck that says, 'No Stopping'. That means exactly what it says.
"I would remind all drivers of large trucks… when you park in the 'No Stopping' zone, the people coming out of that servo have no clear vision.
"You could cause a serious accident."
Click PLAY below to hear Ray's response to the truckie's apology
This isn't the first time URM has been in the spotlight for doing the wrong thing.
In July, Ray Hadley revealed a URM driver was charged for driving while suspended. This sparked one of the company's directors to phone the Ray Hadley Morning program, threatening Ray and his staff with defamation.
The company has also been issued a shocking number of infringement notices just this year, with trucks being busted with serious defects.
Despite this, the company has been given a decade-long contract with Northern Beaches Council.
Mayor Michael Regan and Deputy Mayor Candy Bingham were among those who voted in favour of the contract.
Ray says he wishes he could stop talking about the disgraced trucking company but the problems just never seem to end.
"One of the things I always find a bit bizarre in these matters is that some bloke could park his truck illegally with dirty big signs all over the truck.
"We will pass that on to the NSW Police. We won't waste our time contacting the council because half of them, or more than half of them, are dopes who voted for this mob."
Click PLAY below for the full story