Why Chris O'Keefe is calling for a 'middle road' policy on COVID restrictions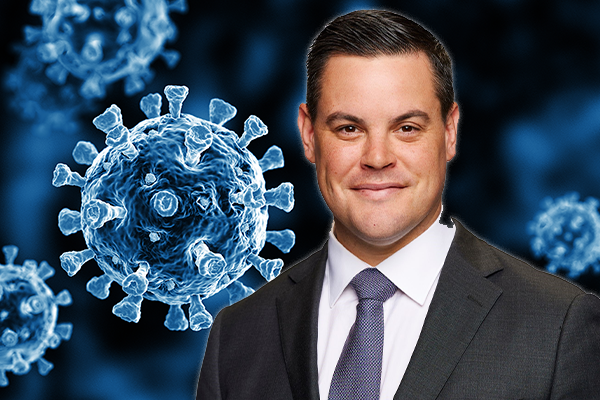 Chris O'Keefe has added his voice to calls for Premier Dominic Perrottet to reconsider health restrictions.
NSW today recorded 3,057 cases of COVID-19, a record for the most daily infections anywhere in Australia.
Mr Perrottet says he'll only reintroduce mask rules if hospitals appear to be at risk of being overwhelmed.
But Chris says the soaring case numbers are posing a massive risk to businesses, lockdown or not.
For the thousands catching COVID and landing themselves in quarantine, there's even more who are classified as close contacts.
The issue is twofold: less consumers are venturing out to avoid catching the virus and quarantine is wiping out some businesses' rosters.
"On masks and QR codes, Dominic Perrottet is completely off the reservation," Chris said.
"Masks reduce transmission of COVID by 53 per cent, plus it makes us all feel that little bit safer, doesn't it.
"At this point, the slower it spreads, the more people can enjoy a summer break."
Chris said Mr Perrottet and WA Premier Mark McGowan are both stubbornly pursuing either end of the spectrum.
"The sensible middle road and balance, balance is what Australians expect from our politicians."
Press PLAY below to hear Chris' comments in full 
Co-owner of Shag Hair in Newcastle, Alana Williamson told Chris three-quarters of her staff have COVID-19.
"Because, like you said with the isolation period – which is, you know, the law – we lost $50,000 in trade [and] we also had to pay out $18,000 in sick leave, because you can't claim the isolate and test payment until your sick leave is exhausted.
"It's been pretty devastating for my business partner and I.
"It's devastating and it's decimating and it is very, very hard to find that stamina to hustle again to rebuild."
Press PLAY below to hear Ms Williamson share her story 
Personal trainer Todd Libinksus told Chris he's had six cancellations in the last 48 hours.
"It actually feels like a lockdown without being a lockdown," he said. "Mate, they're scared – they don't want to catch it.
"They don't want to run the risk of getting it because it might ruin their Christmas."
Press PLAY below to hear the full interview 
Image: Getty