WATCH | Ben Simmons denied entry from Australian casino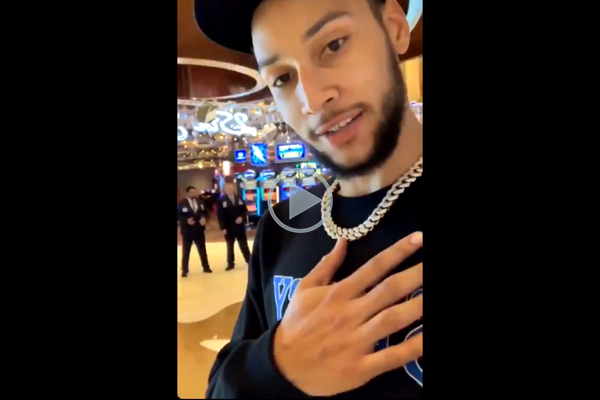 Australia's highest paid athlete, basketballer Ben Simmons, has been refused entry to Crown Casino in Melbourne.
The NBA superstar posted a video to Instagram, which has since been deleted, of him and a group of friends claiming to have been turned away by security.
Deleted Instagram story of Ben Simmons getting denied entry at crown casino @BleacherReport @espn pic.twitter.com/RO26l1V0zU

— Nick (@Nick_Battersby4) August 5, 2019
The 23-year-old insinuates it was a result of racial profiling, suggesting the only member of his group who wasn't "checked" was a white Philadelphia 76ers photographer.
"I find it so crazy that the only guy who doesn't get checked to go into the casino is this guy," Simmons says.
"Thank you Crown Casino, damn… Wow! We've got a long way to go."
Macquarie Media Entertainment Editor Peter Ford says there is a simple explanation for Simmons being turned away, saying he was breaching the casino's dress code and claiming the group refused to show ID.
Ben Simmons should check the dress code of Crown. Applies to anyone famous or not and any skin colour. He was wearing camouflage pants. pic.twitter.com/pkfh21Xrr0

— Peter Ford (@mrpford) August 5, 2019
The decision may have cost the casino a pretty penny with Simmons recently signing a new $241-million contract with his NBA team.
The Melbourne-born, Newcastle-raised star recently withdrew from Australia's highly-anticipated exhibition matches against Team USA later this month, citing his commitments with the Philadelphia 76ers.