Warner wants kids to mimic 'freakish talent' Smith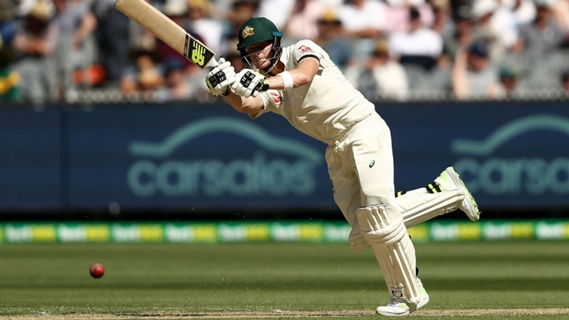 Steve Smith has dominated England's bowlers in the Ashes and David Warner said: "He seriously is just a freakish talent."
David Warner hopes children in Australia are seeking to mimic the technique of Steve Smith, after both batsmen made England toil on day one of the fourth Ashes Test at the MCG.
After Warner had led the way on Boxing Day with a fine innings of 103, Smith compiled an unbeaten 65 to guide the hosts – who have already retained the Ashes – to 244-3 at stumps.
Australia's captain now boasts an outstanding 491 runs in the series, at an average of 163.66, and his latest innings was all the more impressive given he took a blow to his right hand in training on Christmas Eve and had to adjust his grip as a result.
"I don't know how he does what he does," said Warner in an end-of-day news conference.
"He's very mentally strong, we always talk about the way that he prepares. He likes batting time in the nets and then in the game he just seems to be hitting every ball out of the middle.
"England said they had come up with a gameplan to get him out and obviously that hasn't worked out so far in this game, but as we've said he's a freak talent, he has got a unique technique that you wouldn't coach any other kid.
"I hope there's some kids trying to mimic his technique. That would be quite interesting to have a team full of those  – a lot of fidgets!
"He's just a world-class player, he's the number-one ranked test batter in the world, he seriously is just a freakish talent."
Warner acknowledged he had been through a "rollercoaster of emotions" as he was given out for 99, only to be reprieved when replays showed England debutant Tom Curran had over-stepped.
In an interview with BT Sport, the opener added: "It was a big roar when he [Curran] dismissed me, but then obviously the reversal was a louder noise.
"I'm obviously pleased [with the hundred] … It's always a milestone, just to come out here and be selected to play a Boxing Day Test. To score a hundred a second year in a row is a fantastic feeling.
"But I'm disappointed that I didn't manage to go on with it. We always talk about cashing in and today I felt I let myself down and the guys, not staying out there."