Scott Morrison makes good on promise to 11yo Jack Berne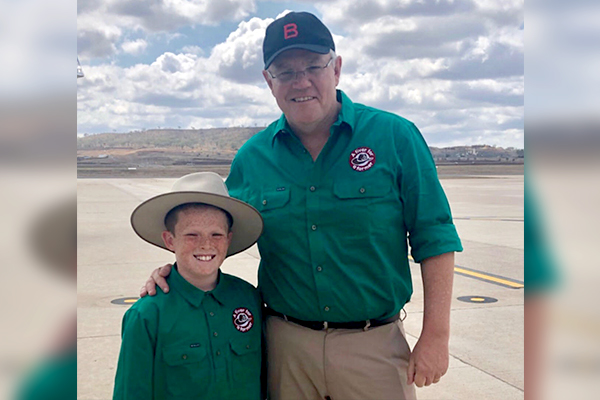 Prime Minister Scott Morrison has dedicated $100 million to fight the drought alongside an incredible 11-year-old boy who's raised over $1.5 million for our farmers.
Jack Berne started Fiver for a Farmer last year, with the simple but genius idea of asking school kids and businesses to dress up as a farmer for a day and make a $5 donation.
Jack was surprised with a phone call from the Prime Minister on The Ben Fordham Show, where Mr Morrison promised to meet up with Jack to talk about the drought.
The Prime Minister has made good on that promise, visiting struggling farmers in Dalby, Queensland, alongside Jack to announce drought relief.
Prime Minister Scott Morrison unveiled an extension of financial help to 13 local councils across Queensland and New South Wales.
Mr Morrison has responded to criticism the funding isn't enough telling Karl Stefanovic he's dedicated to helping drought-stricken farmers.
"There'll be more. So long as the drought goes on we'll keep responding."
He says he enjoyed catching up with Jack who has dedicated his time to raising money for struggling families.
"It was just great to see him talking to the farmers… he's a great boy."
Click PLAY below to hear the full interview
Jack spoke to Karl Stefanovic on-air after experiencing what he describes as "the best day ever!"

He says he was excited to have the chance to ride in the Prime Minister's plane, but is most thankful he was able to see the impact of the drought for himself.
"We went out onto a farm and you know the conditions are just crazy and it's just really sad to see them.
"Mr Morrison and all his staff and all the people who helped out deserve a pat on the back because this is what we need, we need to focus on the big problems in our backyard."
Click PLAY below to hear the full interview