The Shark inspires talk of a Macquarie Radio nude calendar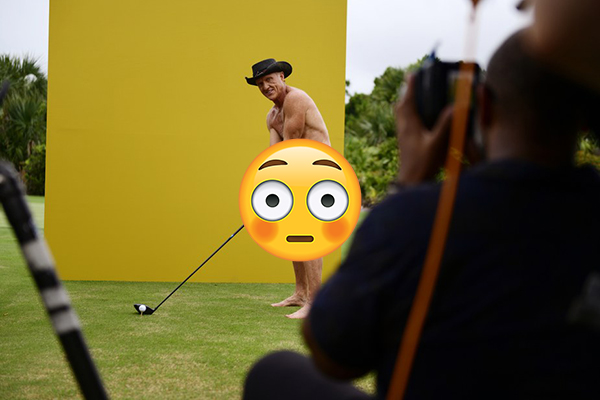 63-year-old Australian golfing great Greg Norman has always been out there but his latest activity has Ray Hadley and newsreader Natalie Peters intrigued.
Armed with his trusty club, famous hat and a cuddly shark toy, Norman has been photographed for ESPN's 'Body Issue'.
And he's not leaving much to the imagination.
Ray and Macquarie National Newsreader Natalie Peters couldn't help but deep dive into the photo shoot, leaving Nat somewhat lost for words.
Nat: "There are three photographs that have been released. There's one where he's posing with the hat and the golf club.
"And then he's got one where he's screaming at the shark. And the other one he looks like he's teeing off so he's actually wearing a glove… that sounded terrible."
Ray: "Is that what they call it now? I'm going to be teeing off myself this afternoon at the Castle Hill Country Club."
See the cheeky photos below
Ray is sure if he was in The Great White Shark's fighting shape, he wouldn't be hiding it either.
"If I looked like that I'd be in the fishnet stockings tomorrow, I'd give you the tip right now."
Click PLAY below to hear the hilarious exchange
Nat has suggested a Macquarie Radio nude calendar should be on the cards.
Ray says it won't be happening but upon further thought could see Steve Price feature on a "small stool" with Andrew Bolt.
Images: Eric Lutzens
It's not the first time Norman has got his kit off for a photo shoot either, posting this snap to his Instagram last year.