The NSW Blues have a secret weapon and her name is Rosalind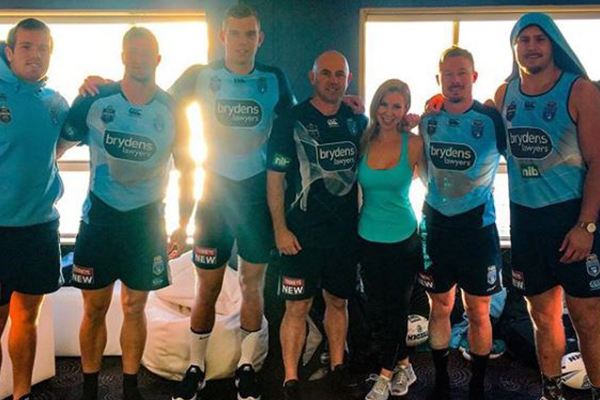 Rosalind Evans is a successful yoga instructor based in Castle Hill.
She's also the secret weapon being utilised by the NSW Blues.
The Blues have already claimed this year's State of Origin series after beating Queensland 18-14 in a cliffhanger at ANZ Stadium on June 24.
But the team, fondly dubbed the 'Baby Blues', are hungry for a clean sweep, and coach Freddy Fittler is using some alternative methods to get them there.
That's where Rosalind comes in, teaching the players yoga and positive visualisation.
"We do a combination of yoga poses… as well as meditation and visualisation techniques so it's very much focused on the mind," Rosalind tells Deborah Knight.
"It was key going into training, Freddy's really big on it. It's filtered down into the players and the rest of the coaching staff."
But yoga and meditation aren't the only left of field training practices being prescribed.
Blues Performance Coach Hayden Knowles tells Deborah players have also been blindfolded in some drills to make them communicate.
He says the alternative methods are "about the boys getting focused".
"We're not in Origin hippie camp. This is very deliberate.
"The boys are very focused, getting their mind right at the start of the day. [Rosalind] has been fantastic in helping that out."
Hayden says the team is ready to seal the series with a third victory, revealing how league legend Andrew Johns fired the boys up with a personal speech yesterday.
"That kind of inspired the boys about really working hard and being hungry this week. They've trained so well and there's an old saying, you get what you deserve. So, at the moment, I would say they deserve this tomorrow."
Click PLAY below to hear from Rosalind Evans and Hayden Knowles