'The last thing we need are more spivs': Tony Abbott takes a sledgehammer to Clive Palmer & Brian Burston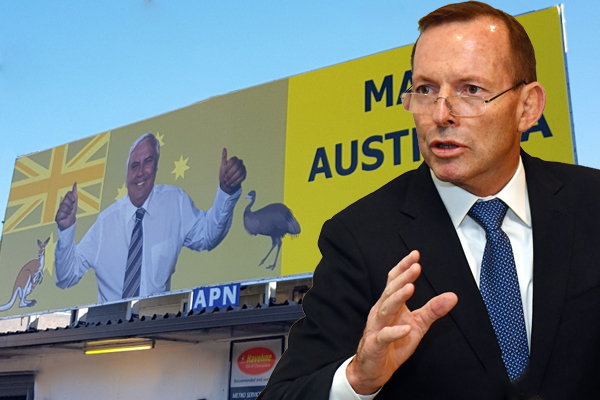 Former Prime Minister Tony Abbott has torn Clive Palmer to shreds as the businessman prepares to make a political comeback.
In recent months Mr Palmer has been putting up billboards around the country, spruiking his recently re-named Clive Palmer's United Australia Party.
Now, disillusioned One Nation Senator Brian Burston has joined ranks with Palmer after resigning from Pauline Hanson's party.
Mr Abbott tells Ray Hadley Palmer's actions are disgraceful considering how much money is owed to workers of his collapsed Queensland Nickel company.
"When he first bought his way into parliament back in 2013 I thought this is a very dangerous development, the Berlusconi-isation of Australian politics. Rich people effectively buying votes by way of paid media exposure.
"I just think people are sick of it. We now know what he's like.
"He's driven every business that he's ever run into the ground. The money he's made has all been made by wheeling and dealing, not by building businesses up from scratch and the last thing we need are more spivs in the parliament."
Mr Abbott took a similar swing at Senator Burston, advising him to find better colleagues.
"If you fall out with your party and you're not prepared to resign, sit in parliament as an independent. Don't tart yourself around, which is what this guy seems to be doing."
Mr Abbott also urged the Prime Minister to scrap plans for vehicle emissions targets, saying it would be "an absolute travesty".
"My worry is that the party room might be asked to back something which is effectively a carbon tax in disguise.
"There is no way this government can support anything which is a carbon tax in disguise. It just can't!"
Click PLAY below for the full interview