'The key question is terrorism': Police Commissioner says CBD stabber has no link 'at this stage'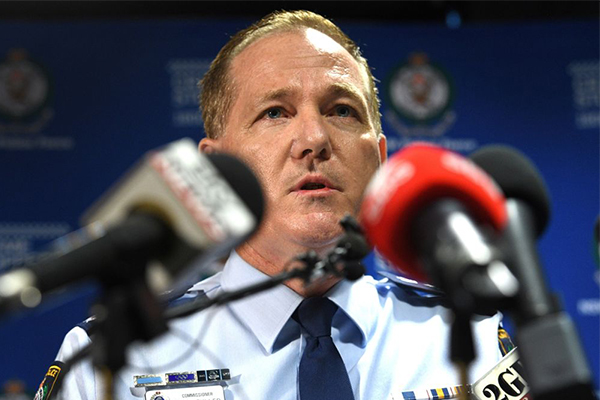 The state's top cop says if they find any provable link between the Sydney CBD stabber and terrorism, they will use it.
But, "at this stage there is nothing that would link him to terrorism", according to Commissioner Mick Fuller.
Strike Force Lalchere has been established to investigate Tuesday's rampage, where 20-year-old mental health patient Mert Ney allegedly slit the throat of a 24-year-old woman and stabbed another woman in the back.
Woman dead after mental health patient goes on CBD stabbing rampage
Ney screamed "Allahu Akbar" during the attack and was found with material relating to other mass murders around the world.
He is under police guard in hospital and is yet to be interviewed detectives who accept "the key question is around terrorism".
"[We're] looking at his history, the last six months and 12 months, to see if he was radicalised," Commissioner Fuller tells Alan Jones.
"If we establish that he had terrorism as a motive, and we can prove that, then I will certainly turn that on because that opens up a whole range of other criminal charges that would see him behind bars for a long, long time."
Commissioner Fuller says "there is nothing, globally, that would link him to terrorism… at this stage" but insists the investigation is a long way from over.
"We haven't interviewed him yet and we're processing two crime scenes. Any of this could provide evidence to allow us to charge him with terrorist-related offences."
Click PLAY below to hear the full interview