'The first it was ever mentioned… was during the leadership week': Dutton responds to Turnbull's tweet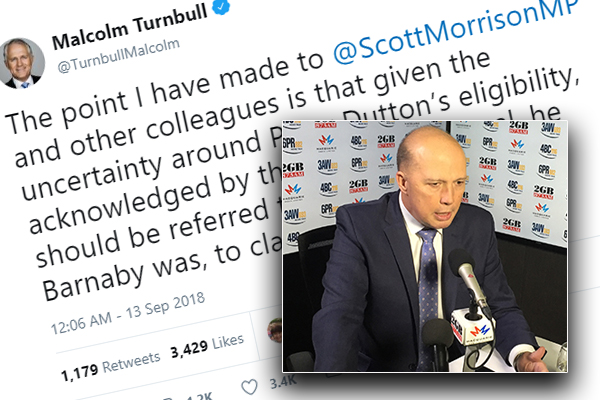 Former prime minister Malcolm Turnbull has posted a late night tweet from New York in an attempt to draw Peter Dutton's eligibility to sit in parliament into question.
Mr Turnbull has urged Prime Minister Scott Morrison to follow up on the uncertainty around the Home Affairs Minister's eligibility and refer him to the High Court.
The point I have made to @ScottMorrisonMP and other colleagues is that given the uncertainty around Peter Dutton's eligibility, acknowledged by the Solicitor General, he should be referred to the High Court, as Barnaby was, to clarify the matter.

— Malcolm Turnbull (@TurnbullMalcolm) September 12, 2018
In response to the allegations in the tweet, Mr Dutton tells Ray Hadley he has never taken any money out of his wife's business.
"My wife's business interests are well known… and the former prime minister knew all of that detail.
"Mr Turnbull never raised once with me any issue around Section 44," says Mr Dutton.
"The first it was ever mentioned by Malcolm Turnbull was during the leadership week.
"People can draw their own conclusions and judgements.
"I hope that Mr Turnbull is able to enjoy his retirement and contribute to the Liberal party as I say in the way John Howard has.
"I think John Howard's got the gold standard here. I think he conducts himself with dignity and I hope that all former prime ministers can do that."
Click PLAY to hear the full interview
With regards to his latest stoush with former Border Force Commissioner Roman Quaedvlieg, Mr Dutton says "even the latest version of his evidence now has been discredited".
"I think people need to look at the motivations.
"It's a sad story really… he had a long and successful policing career.
"But it's on the public record that he's still under criminal investigation… he's obviously bitter at the fact that he's lost his job."