THE ASHES LIVE! All the action from Day 4 at the MCG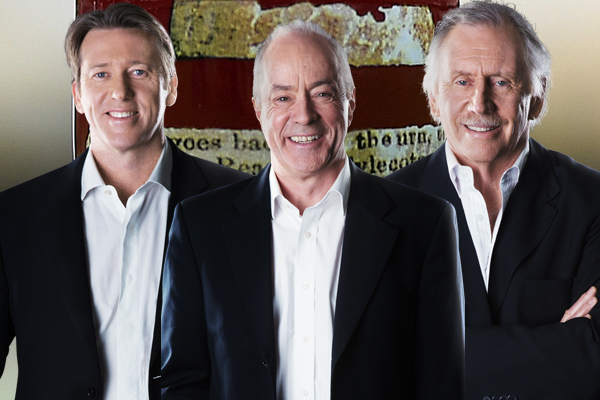 MACQUARIE'S SUMMER OF CRICKET LINE-UP: Mike Hussey, Damien Fleming, Ian Chappell, Glenn McGrath, John Emburey, Carl Rackemann, Tim Lane, and Bruce Eva.
========
Catch up on all the latest Cricket news here: 
=========
PLAY ABANDONED
Play has been called off on Day 4 due to rain. Play will start 30 minutes earlier tomorrow morning with 98 overs to be bowled in the day.
David Warner is 40 not out and Steve Smith on 25.
The match looks destined to end in a draw in what will be a huge blow for England who toiled away for three days and got themselves into a winning position before the rain came.
=========
Cricket Australia CEO James Sutherland joined the team during the rain delay to discuss all things cricket going forward.
He says that it is a concern that Melbourne and Sydney haven't seen live Ashes matches for a number of years, but they are discussing ways around it.
"It may be that we play the ODIs first and then start with Boxing Day and Sydney, these are the things being discussed"
Cricket Australia CEO James Sutherland has joined Tim, Chappelli and Flem during the rain delay! #Ashes pic.twitter.com/ftl0Y0y8Wb

— Macquarie Cricket (@MRNCricket) December 29, 2017

=========
Second Session Highlights! 
The second session has been cut short by rain, but there has been plenty of highlights throughout with David Warner digging in on 40 not out.
England claimed two scalps today with Cameron Bancroft chopping on off Chris Woakes and Usman Khawaja edged a Jimmy Anderson out swinger to the keeper and departed for 11. His spot looks seriously in jeopardy going into the Sydney Test.
=========
DELAY! 
Things are not looking good for play at the MCG – There is plenty of rain around and it is quite heavy as well.
We aren't expecting much more play for the rest of the afternoon. Australia will be happy with that result.
It looks unlikely we will get more play today…Rain is setting in on Day 4.

The Aussies will be happy! #Ashes pic.twitter.com/cVOS9vxUn5

— Macquarie Cricket (@MRNCricket) December 29, 2017
==========
Catch up on all the latest Cricket news here: 
==========
More rain is falling at the MCG and this one looks like it is here to stay – we don't expect to see cricket for a while.
Australia will be very happy with this, as it continues to eliminate England's chance of winning this Test Match.
Australia are 2/103 with Warner (40) and Smith (25) at the crease.
===========
Rain has gone away for now at the MCG and we have live play – Australia are 2/86 – Warner 32 and Smith on 16.
==========
RAIN DELAY
In typical Melbourne fashion, the rain has begun to fall at the MCG with the covers being called on at 2pm on Day 4.
Australia were in no hurry after the Lunch break, going into the rain delay at 2/86. Bancroft and Khawaja are the men out.
England currently lead by 78 runs, and were a real chance of causing an upset at the MCG, however it looks as though there is a bit of rain around the ground today.
========
LUNCH! 
Australia are in a spot of bother at Lunch, however they have their captain at the crease as he looks to get them back in the contest.
Cameron Bancroft and Usman Khawaja fell cheaply before lunch – where Australia were 70-2 and 94 runs adrift at the MCG on day four.
England increased the pressure on under-fire batsmen Cameron Bancroft and Usman Khawaja, as the tourists strengthened their grip on the fourth Ashes Test.
=========
Khawaja Gone! 
Usman Khawaja's poor run of form has continued with the Australian number 3 dismissed for a disappointing 11 at the MCG.
Khawaja has recorded scores of 17 & 11 in this Test Match and could be in trouble going into the Sydney Test as he has only made one 50 this series which puts his spot in serious jeopardy.
Khawaja looked like he was shaking off his woes, hitting Moeen Ali for 6 on just his 5th delivery, before Jimmy Anderson got the ball to shape away and catch the edge of the bat.
=========
WICKET! 
Australia have lost their first wicket on Day 4, with Cameron Bancroft becoming the fourth Australian in this match to chop the ball onto his stumps – he was out for 27, bowled by Woakes.
Australia now sit 1/52 still trailing by 112 runs. David Warner has continued his good form and is 25 not out.
OUT!

Bancroft has been bowled by Woakes. He has chopped that on to his stumps. Out for 27.

Aus 1/51. #Ashes

— Macquarie Cricket (@MRNCricket) December 29, 2017

=========
ENGLAND ALL OUT! 
Australia are batting after dismissing Jimmy Anderson with the first ball of the day, caught at short leg off Pat Cummins. Cummins ended with 4/117, but the star of the innings was Alastair Cook who remained 244 not out.
David Warner and Cameron Bancroft have started well getting to 0/30 – trailing by 134 runs early in the first session of play.
England have already lost one DRS review, convinced they had Bancroft with an edge to the keeper, with the technology showing that the Aussie opener did not hit the ball.
=========
DAY 4 at the MCG! 
For the first time this series Australia go into a day of cricket on the back foot after having the game taken away from them by Alastair Cook and the English. Cook, who now holds the record for most runs scored at the MCG by an opposition player is on 244 overnight with England 9/491 with a 161 run lead.
Stuart Broad was a thorn in Australias side as well as he worked his way to 56 before being dismissed by an impressive albeit controversial catch by Usman Khawaja.
It is too little and too late for the visitors, but if they can find a way to win here they will avoid the dreaded whitewash and give themselves some confidence going into the Sydney Test where they could potentially lessen the margin of defeat to 3-2.
The game looks like it will be a draw with both sides only batting once coming into day 4, and with the MCG pitch not offering a whole lot for bowlers it seems unlikely that 20 wickets will be taken on Days 4 and 5 of the match.
And down goes a legend #ashes #BoxingDayTest @MRNCricket @Beva3AW @mcg pic.twitter.com/ANMkIx34CB

— Josh Moore (@MooreJosh) December 28, 2017

========
=========
RECAP DAY 3