Ray receives vile letter from the brother of convicted paedophile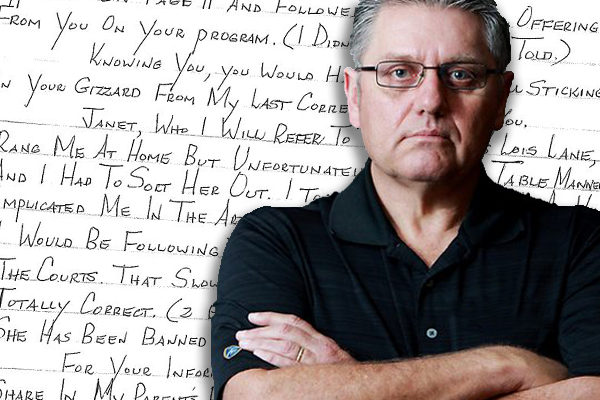 Ray Hadley has been following the case of convicted paedophile Neil Futcher's for some time after a victim contacted him.
Now, he's received a vile letter from Futcher's brother and he's putting it where it belongs.
Neil Futcher, who taught at Trinity Grammar, has been refused legal aid after a Daily Telegraph article revealed he gave away his share of a million-dollar harbourside home.
The 70-year-old had been promised public funding to fight his appeal against 22 convictions for the sexual assault of boys as young as 11 between 1974 and 1981.
Ray, who has previously spoken to Futcher's victims, received an illegible letter from Futcher's brother Geoffrey when the revelation was first reported.
"Last time he wrote a letter, [it] was so scrawled we had to translate and then hope that we got it right, so we wrote back and said you better write again."
And he did.
In the letter, Geoffrey refers to his brother's victims as "grubs".
See the letter before it was shredded (click to enlarge)
"To be perfectly frank Geoffrey, since your last illegible correspondence, I haven't given you a moments thought, and I've got far too many other things in my life to worry about.
"Rest assured I don't lose any sleep over you. I don't think about you, I don't concern myself with you, until you write me.
"I've got a little machine here that I use for correspondence. So whether it's illegible or legible, in future any correspondence from Geoffrey Futcher, goes in this… there it is… it's called the shredder!"
"So don't waste your time. Go away and for the sake of everyone, stay away, please."
Click PLAY below to hear Ray's response to the letter