Ray Hadley's moving message to his listeners for R U OK? day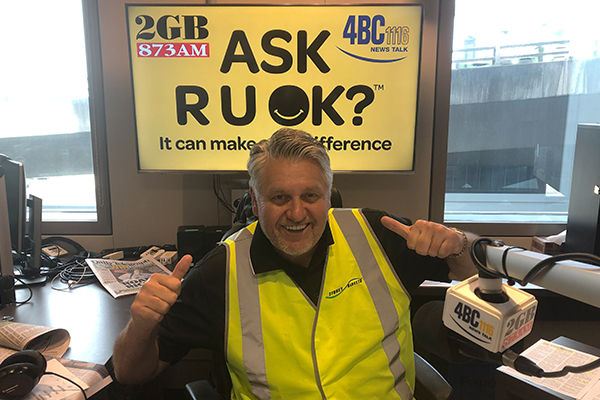 Ray Hadley has delivered a moving message to his listeners, encouraging them to seek help if they need it in honour of R U OK? day.
Australians around the country are being asked to check on the mental health of the people in their lives by asking "are you ok?" today.
Ray Hadley knows exactly what it's like to feel down, but says it's important to seek help when you're having more bad days than good days.
"From my point of view, not every day is perfect. Most of them are really, really good, and they've become even better with the birth of my grandchildren.
"But as you'd understand from time to time it's not much fun picking up the paper and seeing yourself on the front page for a whole range of things. And you get a bit down about it, but you bounce back and continue on.
"Thankfully I have far more good days than low days."
Ray says he's happy the stigma around mental health has changed over the years.
"When I was a young bloke, it was viewed as a sign of weakness to express your emotions. To talk about mental health was a taboo.
"Well, in 2019 it's not a sign of weakness, it's a sign of strength."
Click PLAY below to hear Ray's comment in full
One listener heard Ray's message this morning and was moved enough to decide to seek help.
"I've been battling a number of years and to be honest I've come close a few times to ending things.
"Based on your comments this morning I'm going to go and see someone to get my life back."
Click PLAY below to hear his email to Ray
Another listener emailed Ray to share the heartbreaking story of losing her 33-year-old son to suicide.
"You have no idea how right you were when you said that sometimes the happiest people in the world are the ones who turn out to be the saddest.
"Sometimes the "are you ok" question is not enough.
"I only wish my boy could see the devastation he's left behind.
"I do hope R U OK? day helps someone, Ray. I don't want anyone to go through what we've gone through."
Click PLAY below to hear her comments in full
If you are experiencing difficulties please seek help:
Lifeline – 13 11 14
Beyond Blue – 1300 224 636
Watch the video below to find out more about R U OK? day 2019