Ray Hadley unleashes on Premier's 'disgraceful' handling of climate protests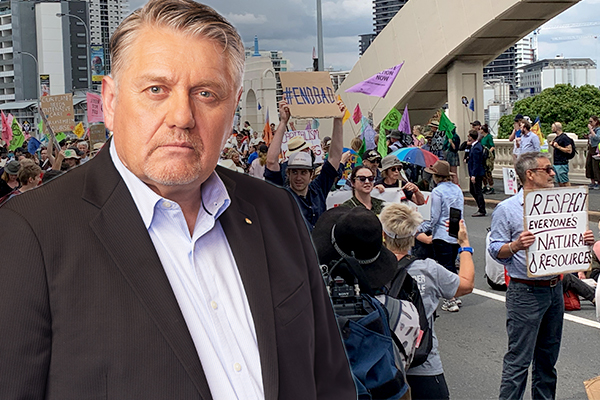 Extinction Rebellion protesters have shut down a major Brisbane bridge as part of week-long climate action.
Hundreds of protesters are threatening to remain on William Jolly Bridge for hours.
This followed a week of protests which saw a man suspended from the Story Bridge and multiple protesters locking themselves to a boat in the CBD.
Ray Hadley says there should have been a stronger police presence in anticipation of the protest.
"As soon as they saw they outnumbered the coppers, overwhelmingly, they just moved onto the main deck of the bridge and that's where they remain now, closing the bridge to vehicular traffic.
"The Queensland Police Force, it's not their fault, they're paralysed by this Labor government.
"Otherwise there would have been 200 coppers on the bridge, arm in arm either side, stopping them from going onto the bridge.
"Instead you've surrendered meekly as you've done all week!
"It's an absolute disgrace that the city of Brisbane has been overtaken by these lunatics because there's been no resolve from the Queensland government and therefore no resolve from the Queensland police.
"It's embarrassing, absolutely embarrassing."
Click PLAY below to hear the full interview