Ray Hadley treats Hamish & Andy to a bum modelling show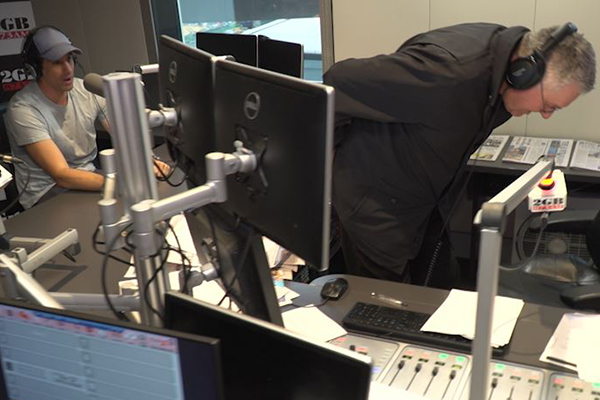 Hamish and Andy dropped by to promote the new season of their show, True Story, and got treated to a bum modelling show by Ray Hadley.
That's right… anything can happen when those two show up. And it's not the first time they've been in the studios with Ray.
He first interviewed the radio-turned-television funnymen way back in 2006 after hearing some early podcasts of theirs.
With tongues firmly planted in cheeks, the duo tells Ray that was the launch point of their careers.
Hamish: "A lot of people do trace it back to that interview, that was the inflection point of our careers."
Andy: "I'm not sure what percentage you're entitled to but we can talk about that later on.
Hamish: "Just from a financial perspective though we'd love it to be less than one per cent. We're happy to give you 50%of the credit and just a small clip of the earnings.
Their show True Stories is typical of Hamish and Andy… completely unscripted and unpredictable.
"We deliberately don't want to know the story. We don't even know who the person is until a few minutes before."
Unscripted and unpredictable is exactly what led to Ray putting on a bum modelling show for the boys.
Click PLAY below to watch the hilarious exchange
True Story with Hamish & Andy returns on Tuesday at 8.40pm on Channel 9
Click PLAY below for the full interview