Raiders coach Ricky Stuart's philosophy for young up-and-comers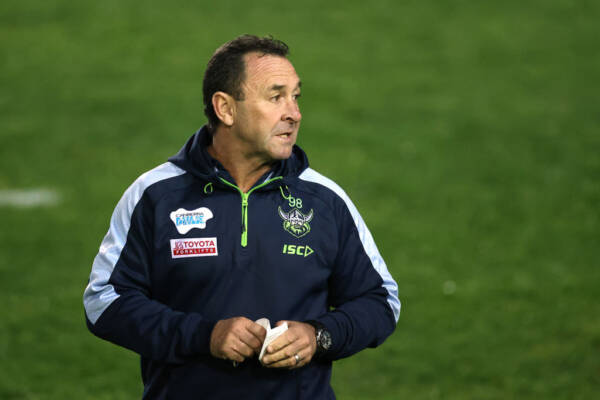 Canberra Raiders coach Ricky Stuart has opened up about his philosophy when it comes to training for players at the elite and junior levels.
He told Peter Psaltis on Wide World of Sports, he wants players to focus on the game, and not the scores.
The Raiders take on the Sydney Roosters on Thursday, vying for a spot in the top eight.
"Not to play to the scoreboard," he said.
"I think we were a little bit tight last week, I think we were a little bit more knew the outcome ..
"This week it's something that I try and focus on, not to much the scoreboard but playing good football."
He said he wants the players even at the elite level to enjoy training.
"I talk to a lot of our junior coaches in Canberra, our junior rep coaches, our junior club coaches, there's two things that they should look at that I promote.
"One is you've got to enjoy training, and two, make sure they are developing all of the fundamental skills.
"The fundamental skills are learnt playing in the backyard … it's about playing both sides of the field but enjoying it. If they are enjoying training, they are learning."
Press PLAY below to hear more of why he believes all players should enjoy training
Image: Cameron Spencer/Getty Images