Raiders are "pumped" for Preliminary Finals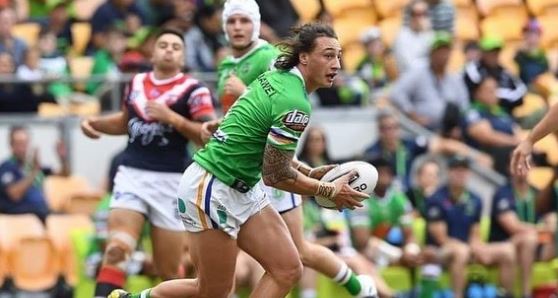 He has been described by many as the Canberra Raiders' 'buy of the season', but for Charnze Nicoll-Klokstad, it hasn't been an easy journey."
In 2010, one of Charnze's siblings passed away, his mum was in prison and his family was struggling.
The family decided to pack up and move to Melbourne in search of a better life, and from that moment on, Charnze's future as an NRL player came into being.
He was picked up by the Melbourne Storm and played for their SG Ball Cup Team. He then signed on with the New Zealand Warriors.
Earlier this year, during the off season, he was told he could look elsewhere.
"It was pretty disheartening…and not even half way through the first year [of the deal] they told me I could look elsewhere."
Instead of getting down in the dumps though, Charnze set out to prove himself.
He approached various clubs before landing on the Canberra Raiders.
Since then, he's impressed everyone – fans, commentators and the team.
So much so, he recently sealed a contract extension with the club until the end of 2023.
"I'm still pinching myself…even in February this year, I thought I'd be playing reserve grade…it's a dream come true."
He's now just one 80-minute game away from playing in the Grand Final – the first time Canberra's made an appearance since 1994, one year before Charnze was born.
"I'm really pumped."
Aside from Charnze, the Raiders also boasts a big English pack, featuring the likes of John Bateman.
But how does Charnze, who has a Kiwi accent, go with understanding them?
"It was a bit of a struggle when I first started…especially Johnny!
"You just change the subject."