Queensland family granted exemption to quarantine at home with desperately ill baby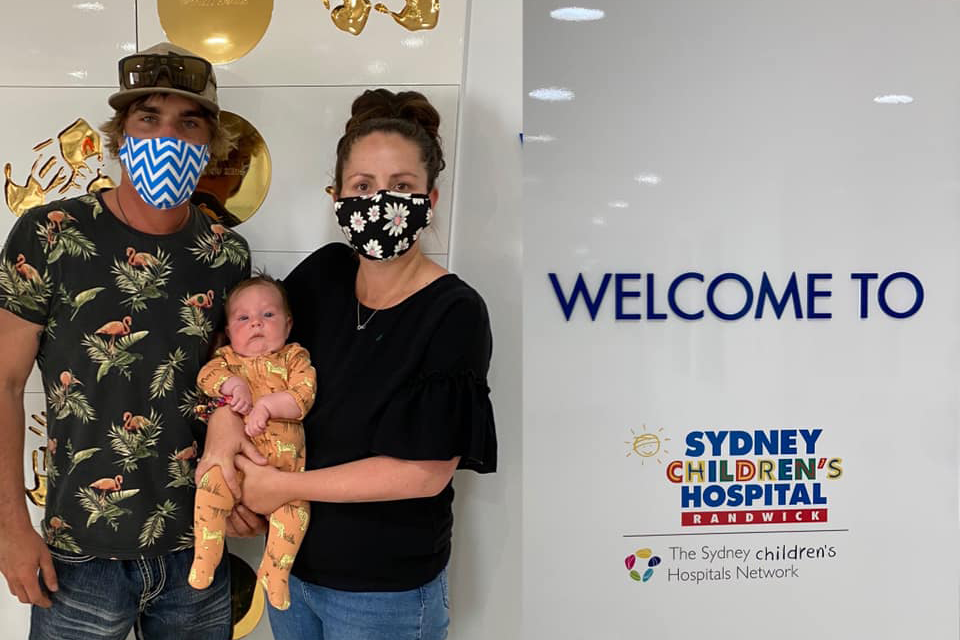 Queensland Health have granted a Jandowae family stuck in Sydney with their ill baby an exemption to quarantine at home after story raised the ire of Premier Annastacia Palaszczuk.
Billy Blacker was told he must enter hotel quarantine in Brisbane while his partner Jessie Evans and their four-month-old son Rocka quarantine in hospital.
The family travelled to Sydney to acquire life-extending and -improving treatment for Rocka, who suffers from Spinal Muscular Atrophy Type 1.
This afternoon Queensland Health said they will be under the care of Children's Health Queensland and they will be allowed to quarantine at home.
EARLIER
Jessie told Neil Breen requests to drive up to Queensland, or enter via Angel Flight, and isolate at home in Jandowae near Dalby have been rejected.
"I don't want to put him at any risk he doesn't need to be at," she said. "You don't have to be a mother of a sick child to understand that."
"The longer I can keep him out of the public and airports and things like that, the longer I will."
The denied exemption comes despite reference letters from the family's Brisbane and Sydney hospitals and Jandowae GP.
"We're trying to do everything, we've applied for all the exemptions, it's not like we've tried to cut corners."
Press PLAY below to hear Jessie Evans explain her heartbreaking story 
When asked about their story today, Premier Annastacia Palaszczuk says health officials are trying to solve the situation.
Federal Agriculture Minister David Littleproud, whose electorate covers the area, said it was another example of a lack of compassion.
"This is the frustrating thing, this isn't our first rodeo," he told Scott Emerson.
He spoke to Jessie today, and said they still didn't have a final answer.
He has written to the Premier today to step in.
"There is a solution, it's a COVID safe solution … they can fly them back directly to Dalby, it's about a 60 kilometre drive to their home in Jandowae, they have a sick little boy.
"It's hardly as though they are going to be running around the streets of Jandowae going to the pub, they are going to be at home looking after their little boy.
"I just think some common sense and compassion is all we need."
He implored the Premier to show some leadership.
"If she is so heartbroken by this – walk into the health department, get the Chief Health Officer in front of her and say 'fix it' and let it never happen again."
Press PLAY below to hear his reaction
Image: Jessie Evans / Facebook