Qantas flight attendant urged to launch legal action against will.i.am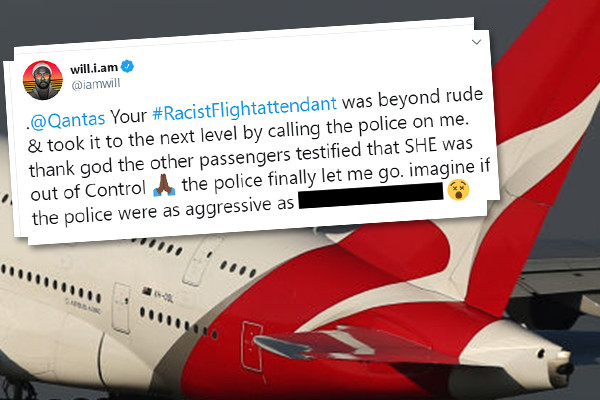 A Qantas flight attendant is being urged to sue will.i.am after the pop star used his massive social media following to accuse her of racism.
The Black Eyed Peas rapper made the claims after a flight from Brisbane to Sydney.
Will.i.am was met by police at Sydney airport on Saturday after he clashed with the flight attendant, who he claims was "overly aggressive" to him because he couldn't hear her through his noise-cancelling headphones.
I'm currently on a flight from Brisbane to Sydney.

I'm sorry to say me and my group have experienced they worse service due to a overly aggressive flight attendant…

I don't want to believe she racist.
But she has clearly aimed all her frustrations only at the people of colour

— will.i.am (@iamwill) November 16, 2019
It's believed she wanted the American pop star to safely stow his laptop away like every other passenger.
The American singer Tweeted the flight attendant's full name out to his 12.8 million followers, unleashing a torrent of abuse towards her.
It got so bad, will.i.am even began ask his fans to tone it down but he has still refused to remove her name.
Legal experts say the woman has a cut and dry case to launch defamation proceedings.
Qantas has asked the star rapper to retract his claim.
Macquarie's Entertainment Editor Peter Ford tells Ben Fordham he still hasn't deleted his original tweet.
"Qantas, to their credit, are certainly backing this woman.
"I think they should go even harder on this and I think they should say, 'unless you take down and stop the harassment then we don't want you on our planes again.'"
Click PLAY below to hear the full interview