Podium protest: Aussie Swimmer Mack Horton refuses to stand next to accused cheat, Sun Yang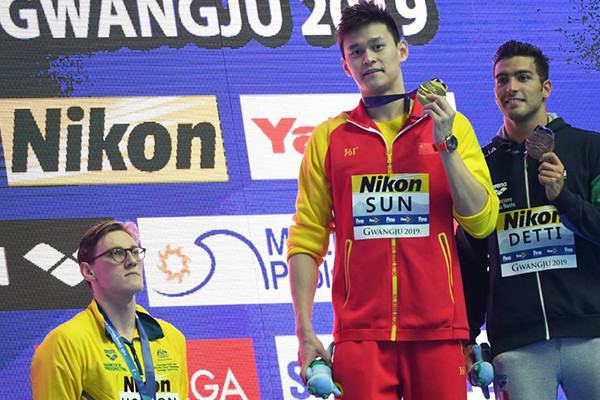 Aussie Swimmer Mack Horton refused to stand next to accused cheat, Sun Yang, after he made a bold protest at the World Swim Championships overnight.
Horton finished second in the 400-metre freestyle final in South Korea behind Chinese arch-rival and drug cheat, Sun Yang.
But upon receiving his silver medal, the Olympic gold medalist refused to share the podium with Yang, who is again under investigation for doping.
Earlier this year, Sun Yang allegedly smashed vials of blood samples with a hammer in front of anti-doping testers following an out-of-competition test.
In 2014, Sun was banned for three months by the Chinese Swimming Association after testing positive to a stimulant, which had been added to the World Anti-Doping Agency's banned list four months earlier.
Tasmanian teenager Ariarne Titmus did what few thought possible by defeating US champion Katie Ledecky to claim the 400m freestyle.
Legendary duel between Australia's Ariarne Titmus and Katie Ledecky of USA in the Women's 400m Freestyle! Titmus overtaking Ledecky with only a few meters to go, winning in 3:58.76. All the action live on 💻 https://t.co/bEozhdW5qV #FINAGwangju2019 #Swimming #FINA pic.twitter.com/xknw7yMLxH

— FINA (@fina1908) July 21, 2019