Peugeot's 508 flagship GT fastback – one of our most stylish and individual prestige models.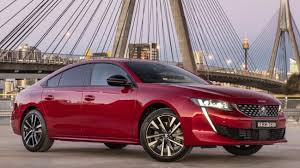 More on Peugeot's flagship 508 – two variants – Fastback and Sportswagon, sensibly in one well-equipped GT grade – both currently $56,990 drive-away saving as much as $7,500.   The Fastback I tested really draws eyes with its stunning styling, a very individual car that is beautifully executed inside and out and a far cry from the non-descript previous model – a front-wheel-drive powered by a 1.6-litre turbo 165kW four-cylinder driving through an 8-speed torque-converter automatic with manual shift paddles. A French car with real panache and a sporty flair riding on a fully adaptive electronic suspension which is well controlled but skewed to ride comfort.
Sportier settings bring sharper steering, firmer suspension and quicker gear shifts. Packed full of drive assist safety and features like Nappa leather seats with massage function, a 10-speaker stereo and a well-placed 10-inch high definition centre screen. The steering wheel with flat top and bottom falls nicely to hand, its practical nature makes it easy to get behind the wheel with good instrument visibility. A low roof line makes access a little harder and rear seat headroom is a little restrictive while another criticism is the complex functionality of its infotainment touch screen.  But if you like individuality in your motoring this is a very distinctive prestige model. Its low volume means we hear little from the importer and its one of motoring's best kept secrets.
I'm David Berthon
Click PLAY to listen!
Download this podcast here