3.3-litre twin turbo Genesis G70 sport sedan impressive apart from the sales process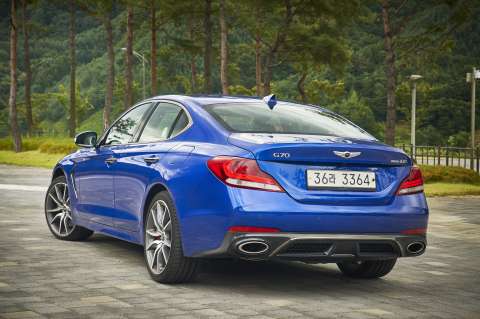 Talking further on Hyundai's luxury brand Genesis – now arriving here as a standalone brand with a new smaller G70 sibling joining the larger G80 saloon that first arrived as Hyundai's flagship model in 2014. The Genesis G70 a prestige sports sedan much in the ilk of the BMW 3-series – a rear-drive model with two engine options and three equipment grades in each. The entry 2.0-litre turbo 8-speed automatic from 59,300 however the 3.3-litre twin-turbo V6 8-speed auto from $72,450 the one to own, the potent engine as used in Kia's Stinger. Both G70's exceptional value, Genesis providing five years free servicing, a five year warranty, free pick up and service drop off and 24/7 roadside assistance.
The V6 more refined with a superbly calibrated automatic with manual paddles, local suspension tune very noticeable – sporty yet compliant from a ride sense, and a driver cars in every sense. Rear leg room noticeably tight but so are most competitive prestige sedans, boot space the biggest disappointment and rather tight. Genesis fit and finish top rate, in fact, most Hyundai's today display excellent quality. How Genesis will perform into the future as a standalone brand is the big question – the sales model is different, bypassing its franchised dealers for an on-line ordering process and a factory owned store in Pitt Street Mall where you can't park. So far sales have been dismal – just 59 this year and one wonders how long Hyundai will persist without dealers.
I'm David Berthon
Click PLAY to listen!
Download this podcast here