Barnaby Joyce accuses Prime Minister of using affair for 'political advancement'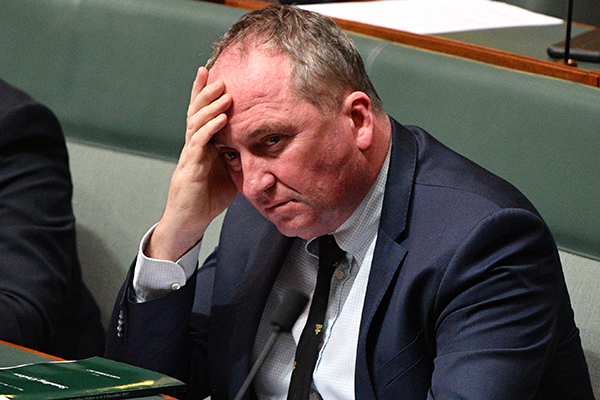 Barnaby Joyce has accused Prime Minister Malcolm Turnbull of using his affair for "political advancement".
The former Deputy PM lost his job after it was revealed he was expecting a baby with his media advisor Vickki Campion.
Shortly afterwards, Malcolm Turnbull held a media conference publicly throwing his own deputy under a bus.
Mr Joyce tells Alan Jones his personal problems were undoubtedly made worse by the PM.
"First of all, it's using someone else's personal dilemma for your own political advancement, which is a very poor form of politics," Joyce says.
"Straight away, you're burying your deputy. That's something you do in the change room, you don't do it on the football field.
"It was a stupid move by him. It didn't help him and it certainly didn't help me. It didn't help anybody else either. It just didn't look right."
In a new book, the former Nationals leader has revealed he's been battling mental health issues in recent months.
He tells Alan times have been tough but insists there's a message in it for everyone.
"I always get an erring sense because people think you're bat-poo crazy and you're not.
"I think it's really important whilst the drought is on… that people clearly understand you are not helping anybody if you don't help yourself."
Click PLAY below for the full interview