Bushfire emergency: The worst is yet to come as 'catastrophic' conditions forecast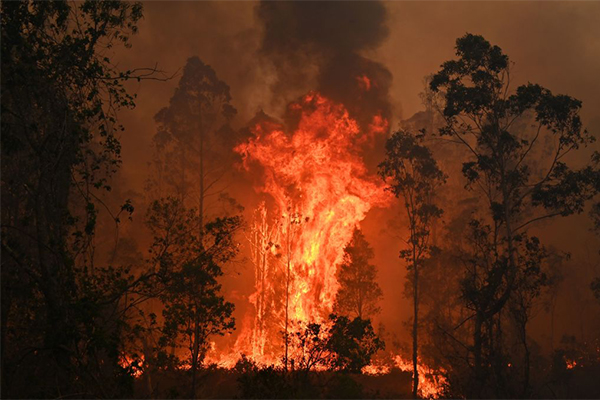 Firefighters in Queensland are still battling almost 50 blazes across the state, trying to gain the upper hand before dangerous conditions arrive.
The most challenging blazes are at Thornton in the Lockyer Valley and Cobraball west of Yeppoon, where about 16 homes are believed to have been lost.
Queensland Fire and Emergency Services State Coordinator Neil Francis says conditions are forecast to deteriorate early this week.
"We're going to be moving into some very unfavourable weather conditions from tomorrow, through to Wednesday.
"We certainly continue to urge the community to stay across the warnings and make sure they keep themself safe."
CLICK HERE for the latest information on the QLD bushfires 
In New South Wales, a statewide Total Fire Ban is in force as 66 bushfires continue to burn.
Three people have died and 150 homes have been destroyed as fires have torn through more than 850,000 hectares of land already this fire season.
There are currently 40 uncontained blazes across the state with 1050 firefighters on the frontline and 60 aircraft on deployment.
Sydney is preparing for an unprecedented day of fire danger, as conditions are forecast to deteriorate across the state on Tuesday.
It's been 10 years since new Fire Danger ratings were introduced in the wake of Victoria's deadly Black Saturday fires.
Tomorrow will be the first time the Catastrophic rating will be in effect for the Greater Sydney area.
The victims:
Julie Fletcher, 63, was found in a burnt-out home at Johns River,  40 kilometres north of Taree
George Nole, was discovered in a burnt car near Glen Innes
Vivian Chaplain, 69, from Wytaliba near Glen Innes was treated for burns before being rushed to a Sydney hospital where she later died
Emergency Services Minister David Elliott tells Alan Jones people must start preparing now.
"Tomorrow we are expecting it to be the worst day and when you consider we're still three weeks away from Summer, this is a cause for concern.
"This is potentially going to be the worst situation we've had for quite some time."
Click PLAY below to hear the latest update 
Glen Innes in the state's north has been at the centre of the bushfire emergency.
Two of the three fatalities came when flames tore through the small town and its surrounds.
Deputy Mayor Dianne Newman tells Alan Jones the situation doesn't look like it will improve any time soon.
"We've been surrounded by fire and it's been happening for a while.
"The services have been doing everything however it's just not enough. We need more action, we've got to stop this!"
Click PLAY below to hear the full interview
Image: Getty/Peter Parks