Alan recites poetry by the incredible Murray Hartin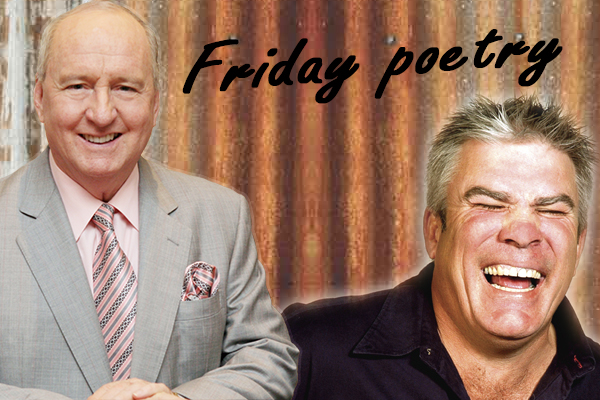 Every Friday, Alan Jones recites a piece of poetry written by Australian bush poet Murray Hartin.
Alan describes Murray as the modern Banjo Patterson, the Johnathan Thurston of bush poetry.
The boy from Moree writes about today's issues, from politics to drought and everyday affairs facing everyday Australians.
Scroll down the page for each weekly instalment of Alan reciting Murray's work.
Deja Vu
November 9, 2018
The Million Dollar Chase
October 19, 2018
Big Jack
October 12, 2018
Running out of Room
October 5, 2018
C'est La Vie
September 21, 2018
Old Friends 
September 7, 2018
Miss-Managed Madness
August 31, 2018
Canola Crops Near Cowra
August 3, 2018
The True-Blueprint of Brilliance for the Great Australian Dream
July 27, 2018
The Best Bloke I Know
June 29, 2018
Shopping Bag Fiasco
June 22, 2018
Take Me Back to the Show
June 15, 2018
The Listening Tour
June 8, 2018
Faster, Higher, Stronger
June 1, 2018
Rain From Nowhere
May 29, 2018
Colours
May 25, 2018
Dark Cloud
May 18, 2018
Through the Eyes of Banjo
May 11, 2018
A Second Glance
May 4, 2018
Position Vacant
April 27, 2018
The Pearl of Them All
April 20, 2018
Click HERE to see Murray's full collection on his website.