'Most special day of my life': Catherine McGregor visits Alan Jones' hometown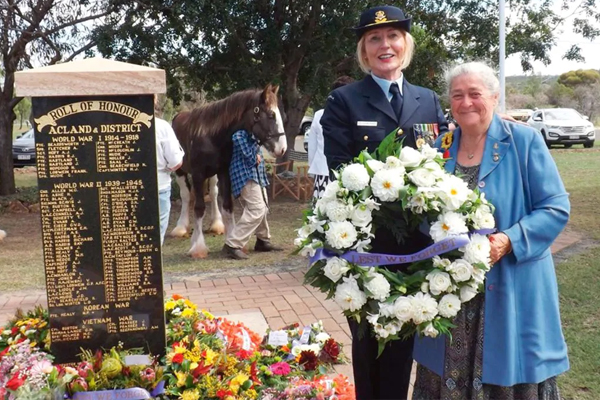 Image: Catherine McGregor at the Acland War Memorial (The Oakey Chronicle)
Catherine McGregor has opened up about one of the most significant and special days of her life, when she visited Alan Jones' hometown.
The transgender icon grew up as in Toowoomba in regional Queensland as Malcolm and returned in April 2019 as Catherine.
She had promised Alan Jones she would deliver the Anzac Day address at his hometown of Acland.
Despite being terrified of the reception she would receive, Cate followed through on her promise and tells Alan Jones, "It was one of the most special days of my life".
"Mate, I'm choked up almost talking to you because the reception of those folk on Anzac Day was so special.
"I've been a military officer on an off for over 45 years and I don't believe I've had a more significant, more special Anzac Day."
Cate reveals she's had a tough year after losing several jobs for not conforming to 'norms' of the LGBT community.
She credits Alan with getting her through it all in an emotional conversation.
"I've had a tough year emotionally Alan. I suffer from depression occasionally and you were very kind.
"I'm sorry, I am a bit emotional."
Click PLAY below to hear the full interview
Catherine McGregor wrote all about her experience at Acland in The Australian