Mass cycling protest causes traffic chaos in Brisbane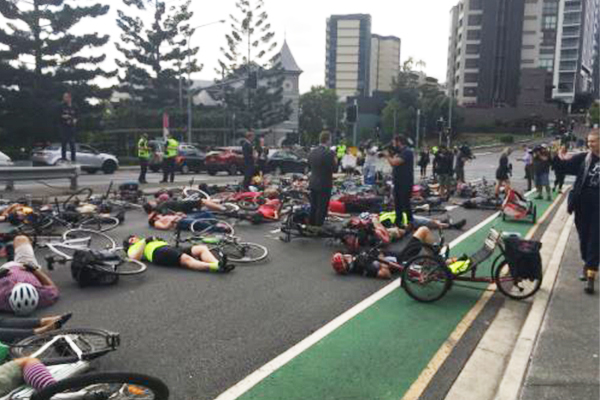 Protesting cyclists have caused major traffic delays in Brisbane this morning.
Up to 50 cyclists took part in the 'die-in' demonstration at the Stanley Street and Vulture Street intersection in South Brisbane, protesting unsafe cycling conditions in the area.
The demonstration imitating the scene of a mass accident began at around 8:30am and impacted motorists trying to get to and from Somerville House school, Lady Cilento Children's Hospital and Mater Private Hospital.
It lasted just over 10 minutes, enough time to cause major gridlock with delays extending up to 8 km back to Cavendish Road in Coorparoo.
Ray Hadley says this display, led by Greens Councillor Jonathan Sri, has done "nothing to help the cause".
"I often make the comment there are probably as many silly cyclists as there are silly motorists.
"But to stop Brisbane peak hour traffic by imitating the scene of a mass accident is just dumb."
Click PLAY below for the full story
Image: Jorjamcdonnell Twitter