Mark Coyne's email to Alan Jones after Singapore incident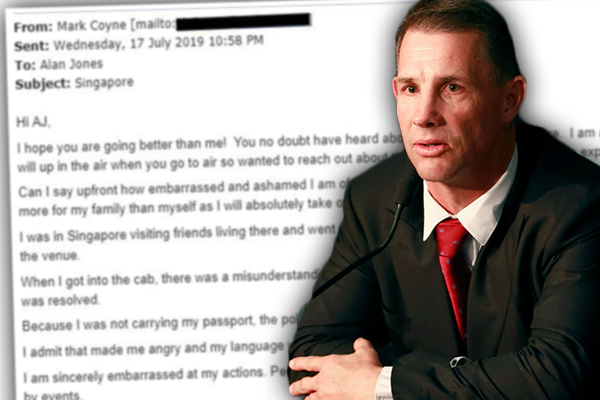 Former rugby league star Mark Coyne has contacted Alan Jones after standing aside from the Australian Rugby League Commission.
He made the decision after news of an incident in Singapore became public.
"Can I say upfront how embarrassed and ashamed I am of my behaviour.

I have never been in this type of trouble in my life."
The retired Origin great has been held in Singapore for the last seven weeks after swearing at police following an argument with a taxi driver.
Coyne was formally charged with using insulting words on Tuesday, pleaded guilty on Wednesday and has been fined $4000.
He emailed Alan Jones moments before boarding a flight back to Australia, looking to explain his actions (see the full email below).
"I've got to read this because this is an outstanding bloke," says Alan.
"Alan, I hope you are going better than me.

You no doubt have heard about my dramas in Singapore.

I'm about to fly out of Singapore to come home so I will be up in the air when you go to air.

So I wanted to reach out about the incident in Singapore, just to explain what happened."
Coyne has stepped aside from his role as an ARLC commissioner pending a meeting with Chairman Peter Beattie.
Click PLAY below to hear the full story
Click to enlarge