Marc Leishman's 'little rule' that has him soaring up the world golf rankings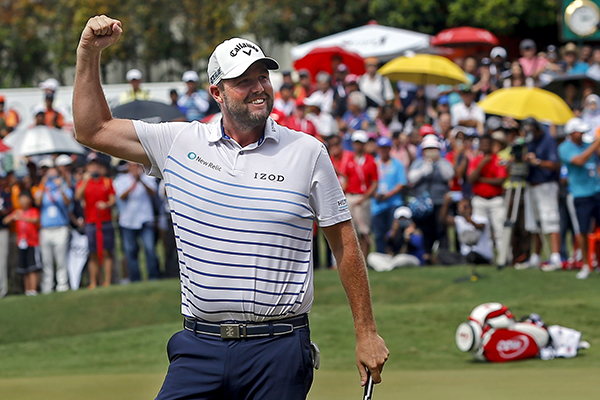 Aussie golfer Marc Leishman is loving life at the moment; back in the winner's circle, climbing the world rankings and thriving in America.
The 34-year-old claimed his fourth PGA Tour title on the weekend with a dominant five-shot victory at the CIMB Classic in Malaysia.
The win earned him a jump up the world rankings from 24th to 16th as well as a cheque for more than $1.75 million.
Leishman tells Ray Hadley, "it was a satisfying win".
"It's good when you travel halfway around the world and make it worthwhile.
"I feel comfortable now competing against the world's best and feel like I'm one of those guys."
So what's got the kid from Warrnambool playing his best, competing and beating the world's top players?
Leishman tells Ray it all comes down to family.
"I've got a little rule with myself that I don't like to spend more than two weeks away from my kids.
"As hard as it is to do that, I think it makes the weeks that you are away more meaningful.
"I like to go away and do everything 100 per cent, do what I need to do and go home and I think that paid off last week."
Click PLAY below for the full interview
What's next for Marc Leishman?
He'll be in Melbourne for the World Cup of Golf (November 22-25) before heading to the Australian PGA Championship (November 29-December 2) on the Gold Coast.
"I'm spending the World Cup and the PGA [in Australia]. I'll go back to America for two weeks and actually bring the family back to Australia for Christmas.
"A lot of air miles coming up but it's all worth it."
Get your tickets for the World Cup of Golf HERE
Get your tickets for the PGA Championship HERE