Free NRL tickets for newly vaccinated Queenslanders back on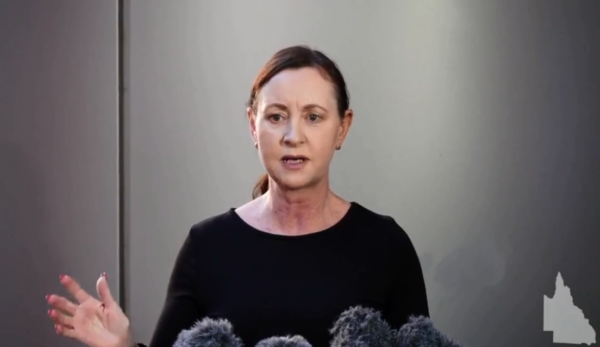 The plan to reward Queenslanders heading in to get their COVID-19 vaccination at a state hub with a ticket to an NRL preliminary final is back on.
It comes after a furious Yvette D'Ath earlier hit out at the federal government after the league suspended the tickets this afternoon based on advice from the Therapeutic Goods Administration.
Thousands of NRL finals tickets were going to be offered up to Queenslanders who get vaccinated at the Pinkenba or Brisbane Entertainment Centre vaccination hubs today.
But then it was revealed the tickets could be only given to people who are fully vaccinated, under TGA guidelines.
This afternoon, the Health Minister called in to Peter Psaltis, filling on 4BC Drive.
Ms D'Ath says she has seen media reports that the TGA "won't enforce any compliance" in relation to the rule around offering rewards to vaccinated people.
"That's good news – that says that common sense has prevailed because this just isn't stuff we should be wasting time on."
She said if people could be rewarded for getting the jab, that was a good thing.
"We don't need to encourage people to come out and get their second vaccines.
"What we need to do is encourage people to get their first vaccine."
It's understood that the NRL will honour tickets already handed out.
Press PLAY below to hear more about the latest
At the press conference earlier today, Ms D'Ath said it was a good-hearted initiative from the NRL.
"Can I say, this is bureaucracy gone mad," Ms D'Ath said.
"Are we supposed to be vaccinating people in this country against COVID or not?
"Greg Hunt needs to step in and fix this.
"Fix this, fix it now. This is ridiculous."
It's the latest in a series of smart marketing techniques by the state government to boost the vaccination rate.
The Grattan Institute's health and aged care program director, Stephen Duckett, said it would target people who were complacent.
He said the evidence shows people do respond to incentives.
"What's really important is you are trying to get people who already say they are going to get vaccinated, to get vaccinated a week or two or a month earlier," he told Scott Emerson.
"So you're not really trying to change the anti-vaxxers, and there's only a handful of those, but you're really trying to say to people come on, just do it a bit quicker and here you've got a chance of a footy ticket to do so."
Press PLAY below to hear more about how incentives work on those who are hesitant
Image: Annastacia Palaszczuk / Twitter