'Karma's a bitch', Ray Hadley unleashes on 'grub' Josh Massoud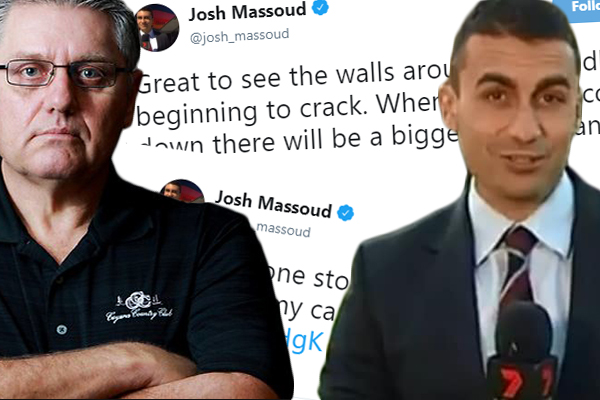 Ray Hadley has opened up on his long and bitter feud with Channel 7 rugby league journalist Josh Massoud, after the reporter was stood down over alleged vile threats towards a junior colleague. 
Massoud is accused of making graphic threats to kill a 21-year-old staff member based in regional Queensland, over the breach of an embargo.
Channel 7 lawyers have since met with Massoud to discuss his future… at this stage, the staffer hasn't taken any legal action.
It's prompted Ray to reveal Massoud's history of disgusting behaviour.
"Almost five years ago when my marriage crumbled and there was an AVO taken out momentarily against me briefly, he wrote this:"
If there's one story I would have liked to have broken in my career, it's this one: http://t.co/r6vvEbzbIr

— Josh Massoud (@josh_massoud) February 21, 2014
Great to see the walls around Ray Hadley beginning to crack. When they soon come down there will be a bigger party than Berlin circa 1989.

— Josh Massoud (@josh_massoud) February 24, 2013
Ray Hadley broke the story about Massoud's bullying, freely admitting his own errors in the past.
"I made some admissions about my own mistakes in relation to bullying a workmate about seven years ago, and the steps that I took to address my behaviour.
"I was totally in the wrong, he was forgiving. I was sincere in my attempts to make a public and private apology and we moved on and worked very successfully.
"Unlike Massoud, I take no great pleasure in reporting people's misfortune but in his case, I'll make an exception.
"In the 24 hours since the story broke, I've had contact with dozens and dozens of colleagues in the media… I can't find one person with any sympathy for this grub. He's just about universally disliked.
"I've encountered a lot of ordinary people in the media over a long period of time, dating back to 1981… Massoud, in my opinion, is without doubt the worst."
Click PLAY below for the full spray
The story prompted Christine Clark, wife of former NRL referee Steve Clark, to phone in about her own recent experience with Massoud.
She details the hurt and damage caused by a complete beat-up about her husband electrocuting other referees.
"The contraption he used was a kid's toy. It was so far wrong it wasn't funny."
Click PLAY below to hear Christine's call
Rugby league fans seem to have no sympathy for Josh Massoud either:
There's an old saying. Something about Karma being a bitch.
Those that know Josh Massoud would be thinking….about time !
The guy is one of, if not the most disliked journalist in sport.
Deserves everything that's coming 👏👏👏

— The Oracle (@BigOtrivia) May 3, 2018
Hopefully none of those poor students at Mcleay college listened to that parasite Josh Massoud.

— Peter Elder (@pelder90) May 3, 2018
5 years from now, Q. Where's josh Massoud A. Who cares

— john G (@berkeley_eagle) May 3, 2018
@josh_massoud better get that Uber licence endorsed. Good job for a grub like you.

— The Vision (@philliphunter54) May 3, 2018