Hundreds evacuated from homes as flood waters peak in Inglewood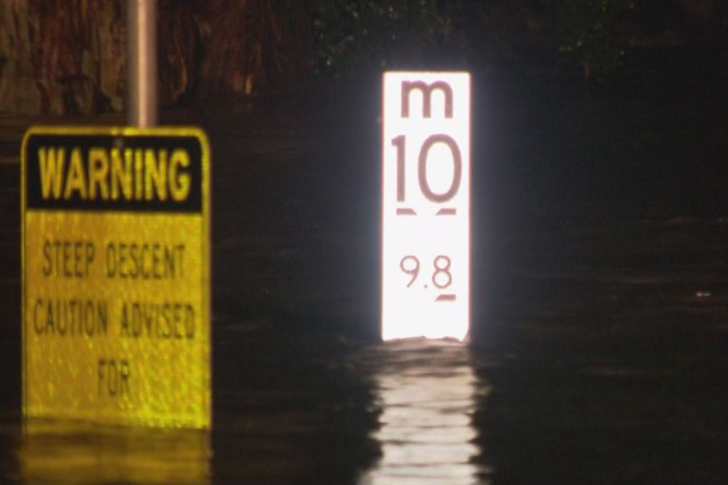 Major flooding forced Southern Downs residents to be evacuated from their homes overnight.
Macintyre Brook at Inglewood Bridge is now receding, after water levels peaked above 11 metres.
SES volunteers were last night doorknocking in Inglewood as a precautionary measure, asking them to evacuate.
Inglewood has been inundated.

Floodwaters have peaked at 11.15m and are receding slowly.

The town's 1000-odd residents are still at the local cemetery. @TheTodayShow @9NewsAUS pic.twitter.com/yOsykLo2EJ

— Reece D'Alessandro (@R_DAlessandro9) November 30, 2021
Nine News reporter Reece D'Alessandro told Ray Hadley residents are beginning to return home.
"Gradually this morning, they have been allowed to come back to the township to assess the damage to their homes.
"There are still some parts around the main streets, surrounding blocks and homes – they're still inaccessible due to the sheer amount of flood water that's still moving down the main street."
Press PLAY below to hear Reece's latest report in full 
The Goondiwindi Mayor has applauded 800 residents in Inglewood for their swift response to major flooding on the Southern Downs.
Lawrence Springborg told Neil Breen, the decision to evacuate residents had to be made very quickly.
"There was an issue with regards to the volume of water, which was being recorded at the gauges.
"All of a sudden, the information which we were provided by the authorities indicated that there was a lot more water there than what had been previously considered."
Press PLAY below to hear more from Lawrence Springborg
Queensland Fire and Emergency Services Assistant Commissioner Stephen Smith said any extra rainfall could cause more flash flooding.
"The main focus through the course of the today and overnight has been that south-western corner, around Inglewood, Goondiwindi.
"We've had specialist crews deployed out to those area for a number of days.
"Given the rainfall that has occurred across the state, any additional rainfall will mean those catchments could respond quickly and flash flooding is possible."
Press PLAY below to hear how the SES is responding 
Image: Nine News