Health Minister's plea to tourism hot spots amid fears of a COVID outbreak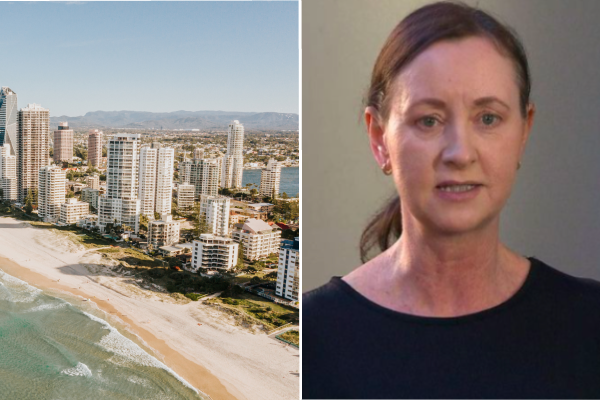 There are fears of an outbreak in the Gold Coast after a man tested positive to COVID-19, who was infectious in the community for 10 days.
Health Minister Yvette D'Ath said she was "frustrated" the unvaccinated man hadn't been using the Check-In app, and was infectious in the community for 10 days.
She said the man was "very unwell" and was still unable to communicate.
"At this stage, all we know is that this gentleman resides at Broadbeach, he is an Uber driver and he has been travelling around the Gold Coast."
Uber confirmed he hadn't driven for the company since September 19.
She implored all Queenslanders to use the Check-In app to help contact tracers, and said it was too soon to lock down.
"Look it's just too early, it's one case, what we assume at this stage is he has acquired it interstate."
80 per cent of people in Brisbane had at least one dose of the vaccine, but the rates were lagging behind in the tourism hot spots.
"You think about the big tourism areas … that have been impacted by border restrictions and particularly international restrictions, they are low in [vaccination] numbers," Ms D'Ath said.
"The Gold Coast, Whitsundays, Cairns if they want to help their tourism sector and help support jobs, they need to come out and get vaccinated."
She said she didn't understand why people on the Gold Coast weren't "lining up to be first for the vaccine" given their proximity to the NSW border and COVID in the community south of the border.
Press PLAY below to hear the full interview 
Coolangatta Surf Club's general manager, Steve Edgar, said it could be the drive that some in the Gold Coast community need, to get their jab.
"It might stir people on to get people vaxxed."
He said he wasn't surprised by the low vaccination rates, given the hard border closure it gave people a sense of security.
Press PLAY below to hear how the community reacted to the roadmap
Images: Nine News, Getty
RELATED
'It's infuriating': Ray Hadley blasts 'stupid bastard' infected with COVID-19