Five coffees before sunrise… that's what fuels Australia's next super coach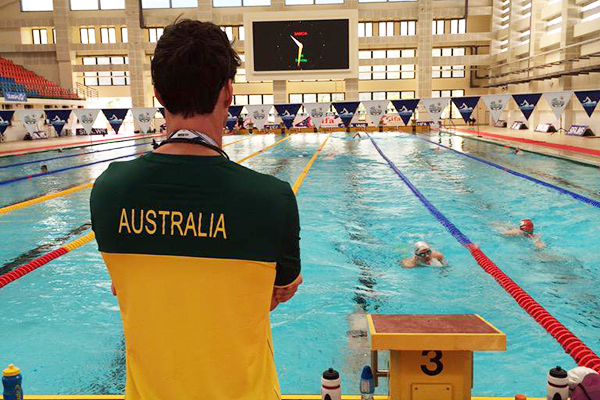 Image: Dean Boxall coaching at the Commonwealth Youth Games in 2015
If Dean Boxall's squad was a country, it would have finished runner-up to Australia in the Commonwealth Games swimming.
He's the man who is inspiring the next generation of Aussies in the pool and he's achieving remarkable success at a young age.
His athletes, Mitch Larkin, Ariarne Titmus, Clyde Lewis and Jack Cartwright winning 10 gold of the Dolphins' 21 gold medals.
The St Peters coach is likened to the great Laurie Lawrence due to his unmatched enthusiasm and passion as he paces up and down the pool deck.
He tells Alan where that energy comes from each morning.
"I get up at 3.50am.
"I have three [shots of coffee] when I get up and a glass of water… just to get the mind going.
"I drive over, make a cold brew for all the coaches and then I have another couple of coffees."
Boxall takes a lead-by-example approach to coaching, completing all land-based training right alongside his swimmers.
"If I'm demanding, and I am quite demanding, the kids to be performing and have high energy, I don't want them to look at me that I'm unfit.
"I've got to practice what I preach."
He also tells Alan about his famous pre-race psyche up speeches, revealing some of his motivational tools.
Click PLAY below for the full interview