First Aboriginal Cabinet minister doesn't support changing the national anthem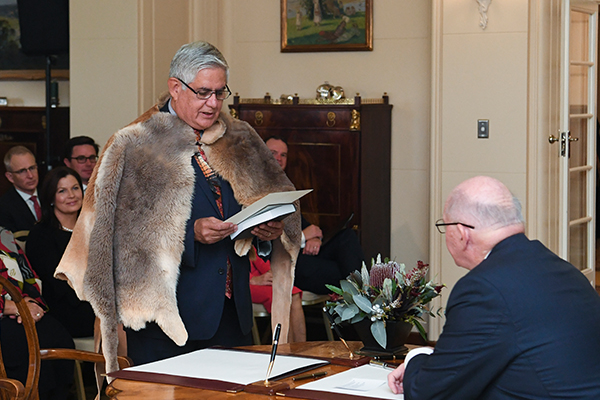 Australia's first Aboriginal Minister for Indigenous Affairs says he doesn't support changing the national anthem.
The debate about whether our anthem should be updated to include indigenous Australians has ignited again.
Two Blues players, Cody Walker and Josh Addo-Carr, have announced they won't sing the anthem at the State of Origin, saying it should be updated to include Australia's first peoples.
Indigenous players have previously boycotted the anthem, with the Indigenous All Stars team refusing to sing it in February.
But newly-appointed Minister for Indigenous Affairs Ken Wyatt tells Chris Smith changing the anthem is not something he supports at this stage.
"I think that's a debate for the country in general.
"I want to focus on more important, pragmatic things like indigenous suicide rates.
"It's like going into a military battle but picking the right points that are pivotal to affecting flow-on changes elsewhere."
Click PLAY below to hear the full interview
Country Liberal Candidate for Lingiari Jacinta Price agrees with Mr Wyatt, telling Ben Fordham she finds the decision to boycott the anthem "disappointing".
"I think there are far more pressing issues when it comes to indigenous Australia that could be dealt with in more practical ways if you actually really wanted to make a difference.
"Doing things like this is a form of virtue signalling, which is an easy way out to seem as though you're actually caring or doing something about indigenous issues when you're not up for doing anything at all."
Click PLAY below to hear the full interview